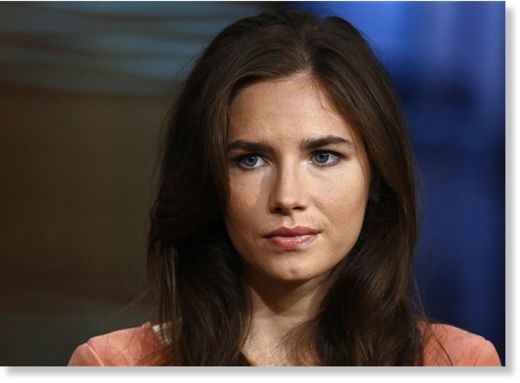 American student Amanda Knox said Thursday that she is "frightened and saddened" after being re-convicted in the stabbing death of her roommate when they were students in Italy in 2007.
A panel of judges and jurors set a sentence of 28 years and six months for Knox, who returned to the United States after an earlier conviction was reversed. They also convicted her Italian ex-boyfriend, Raffaele Sollecito, sentenced him to 25 years and banned him from traveling.
"I am frightened and saddened by this unjust verdict," the 26-year-old said in a written statement from her home in Seattle, where she returned after spending four years in prison.
"Having been found innocent before, I expected better from the Italian justice system."
It's unclear what will happen to Knox, who is certain to appeal - a process that could take a year or longer. Even if the high court confirms the new conviction, Italy still would have to seek her extradition. She has vowed not to return.
Sollecito's lawyers said they were stunned by the latest twist in a whiplash-inducing case that has made headlines on both sides of the Atlantic for six years.
"There isn't a shred of proof," attorney Luca Maori said.
Knox and Sollecito were arrested after British student Meredith Kercher was found dead in a pool of blood in their apartment in the university town of Perugia, her half-naked body covered in up to 40 knife wounds.
Prosecutors argued that Kercher was killed in a sex game, and Knox and Sollecito were convicted and sentenced to 26 years.
Knox was also convicted of slander for falsely telling police she heard a Congolese bar owner kill Kercher - a claim that prosecutors say is evidence of her guilt but that she says was made out of fear during a high-pressure grilling.
In 2011, an appeals court reheard the case and acquitted Knox and Sollecito after independent experts said crucial DNA evidence had been contaminated by police.
But in March, Italy's highest court dismissed that acquittal - slamming the lower court for "contradictions and inconsistencies" in its decision - and ordered a new trial.
Although prosecutors claimed six years ago that Kercher was killed because she balked at participating in a drug-fueled orgy, they changed theories for the new trial and now say a simple argument sparked the violent frenzy.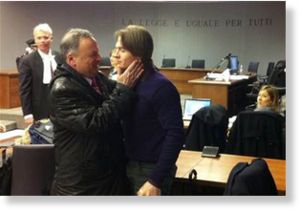 Knox and Sollecito say that only one person is responsible for Kercher's death: small-time drug dealer Rudy Hermann Guede. The Ivory Coast-born man is serving 16 years for the slaying, but a court found that he did not commit the crime alone.
Kercher's siblings said before the verdict that they would accept whatever the decision was.
"As we've always said, we wouldn't want the wrong people put away and we certainly wouldn't want anyone who should be away out there free," Stephanie Kercher told an Italian TV station.
Her brother Lyle added: "The most important thing is to reach a final point in this case."
In her statement, Knox expressed "respect and support" for the Kercher family but insisted she was the victim of overzealous prosecution and character assassination.
"This has gotten out of hand," she said.
"Clearly a wrongful conviction is horrific for the wrongfully accused, but it is also terribly bad for the victim, their surviving family, and society."
Legal experts say it's unlikely that Italy would seek to extradite Knox before its supreme court rules on any appeals. Harvard Law Professor Alan Dershowitz said that if the conviction is upheld, the U.S. would have little choice but to send Knox to Italy to serve her sentence.
"The United States seeks extradition of more people than any country in the world. We're trying to get [NSA leaker Edward] Snowden back and we're not going to extradite someone convicted of murder?" he told NBC News.
Some observers have questioned whether the American protection against double jeopardy - being retried and convicted of a crime after being acquitted - would give the U.S. an excuse to balk at extradition.
But Dershowitz doubts that would apply in the Knox case because she was intially found guilty and her acquittal took place at an intermediate appeals level.
"If that happened in the U.S., it wouldn't be double jeopardy," he said.
Knox has said the prospect of another conviction haunted her as she tried to rebuild her life in the U.S.
"I imagine it all the time because I have to think the worst-case scenario,'' she told
TODAY
earlier this year.
"I have to prepare in my mind what that would be like. I thought about what it would be like to live my entire life in prison and to lose everything, to lose what I've been able to come back to and rebuild. I think about it all the time. It's so scary. Everything's at stake."