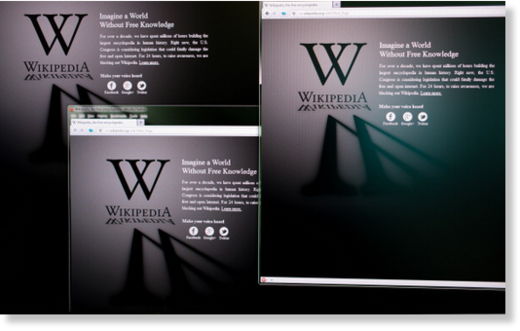 Wikipedia is the single leading source of health care information for both providers and patients, with 50 percent of physicians reporting that they've consulted the community-edited, online encyclopedia for information on health conditions.
A report from
IMS Institute for Healthcare Informatics
, a medical technology company that draws on data from more than 100,000 suppliers and 45 billion healthcare transactions each year, finds that Wikipedia is the single leading source of medical information for patients and healthcare professionals. Serious illnesses, especially less common ones, are among the most frequently searched topics by English-language users.
Launched in 2001, Wikipedia is the world's largest general reference work available on the Internet, with more than 30 million articles in 287 languages that can be edited and posted without cost by any person with access to the Internet. However, the online encyclopedia's more than 71,000 active editors have no credential checks, and there are
numerous instances
of deliberate vandalism and fabricated posts.
Despite the issues with accuracy, the IMS Health report revealed that people trust Wikipedia enough to seek a wide-ranging cache of information about their personal health and medicine.
The top 100 English Wikipedia pages for health care topics were accessed an average 1.9 million times over the course of the past year. And analysis of prescription drug sales found a correlation between page views and medicine use.
"Increasingly, patients are turning to social media as an essential forum for obtaining and sharing information related to their health," Murray Aitken, executive director of the IMS Institute for Healthcare Informatics, writes in the report.
Tuberculosis, Crohn's disease, pneumonia and multiple sclerosis were the top health-related Wikipedia articles in 2013, all of them hovering around 4 million page views. Less common conditions were among the pages with the most page views.
Wikipedia as a whole is ranked sixth globally and in the United States for heaviest web traffic. The U.S. alone accounts for over 20 percent of Wikipedia's annual visitors
according to
the web traffic tracker, Alexa.
"This trend only heightens the need for relevant, accurate content that can be accessed and used throughout the patient journey. Health care professionals, regulators and pharmaceutical manufacturers all need to overcome their reticence and acknowledge the vital role that they can and should play as participants in the healthcare conversation."
The IMS Health report revealed that pharmaceutical companies and other health care providers are actively expanding their role in social media channels. Nearly half of the top 50 pharmaceutical manufacturers surveyed are using social media to engage patients on healthcare topics.
Younger patients under the age of 39 were more likely to research illnesses and drug treatments on Wikipedia before they started their course of treatment. Older patients above the age of 54 were more likely to search Wikipedia for health care information after they had received professional medical attention.
A report this week from
Quartz
revealed that a University of California, San Francisco Medical School professor has a class for fourth-year medical students dedicated solely to the editing and posting of health care-related Wikipedia pages.