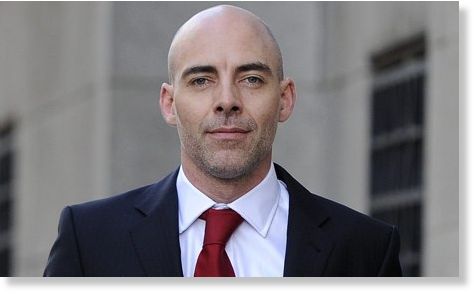 Dan Evans tells court that 2009 witness statement was 'drafted by News International lawyers' and he was 'toeing the line'
Dan Evans, the former
News of the World
hacker, has admitted lying about trying to access interior designer Kelly Hoppen's phone messages but said it was because he was part of an "enormous conspiracy" at News International, the Old Bailey has heard.
When it was put to him that he had lied, Evans said: "I was toeing the line, the party line, the company line."
Evans said he was very frightened when he was caught and a bogus defence he used when initially questioned by a superior on the paper had inadvertently made it into a witness statement drafted by the company's lawyers Farrers.
Evans said: "I bitterly regret I didn't take a braver course of action at the time. I didn't want to disabuse that they wanted to run with it."
Evans has pleaded guilty to making a false witness statement in relation to high court action that followed from the Hoppen hacking in 2009.
Under cross-examination on Wednesday he admitted he had lied in his first witness statement to Farrers and described a second witness statement with his own lawyers at Peters & Peters as "cobblers".
He claimed he had accidentally tried to dial Hoppen's voicemail because his Nokia phone had been damaged by liquid and had "sticky keys".
It was put to him by Timothy Langdale, counsel for the then
News of the World
editor, Andy Coulson, that this was "a completely untruthful account".
Referring to his first witness statement Evans replied: "This was a document drafted by News International lawyers, my employers."
He added: "There was an enormous conspiracy which I was caught up in. I was toeing the line, the party line, the company line."
Langdale asked: "So the reason this went into a sworn witness statement was because of a company line?"
Evans replied: "[It was] fairly well peddled at the time, in parliament ..."
He explained Hoppen had made an official complaint to the company after the hack was traced to his phone, he was called to a meeting with a manager and explained his phone had "sticky keys".
"It [the phrase sticky keys] had been seized on and by the time I got to News International lawyers, it had already made it into the draft statement. I didn't want to disabuse that."
Evans was accused of telling the same lie in a second statement to his own lawyers, who he later engaged. He admitted "it was cobblers".
After he was exposed over the Hoppen incident and phone hacking was making headlines again, Evans said he made a mistake.
"I was a very frightened man at the time. One person caught between the prime minister, tabloid world and highly paid lawyers. I didn't know what to do. I'm very sorry for lying at the time."
Evans told police in a later interview that he had wanted to "look his children in the eye" and get back on the right path in life.
In a police interview in July 2012, which was read out in court, Evans said he had always been passionate about his "craft".
But he said: "I can pinpoint the moment many years ago I took the wrong path.
"I want to look my kids in the eye and tell them they need to be honest... I want to go down my life on the right path."
The former News of the World reporter also admitted that he had co-operated with the police in the hope of getting immunity from prosecution.
He also admitted that a claim that phone hacking was discussed at the
News of the World's
daily editorial conferences was based on "one" incident reported to him by a former colleague.
Evans was also challenged about a claim that he made on Tuesday at the trial, claiming that Andy Coulson had said "brilliant" after listening to a voicemail left by Sienna Miller on Daniel Craig's phone.
Langdale accused him of making it up. Evans said he couldn't remember if it was the exact word used, but it reflected Coulson's general happiness that he had brought in an exclusive.
Evans was accused by Coulson's counsel of lying again: "You are prone to making sweeping assertions that are not in fact correct." He replied: "That's incorrect."
Langdale put it to Evans that he had also lied about Coulson listening to a recording to the voicemail from Miller to Craig, as he alleged in the Old Bailey on Tuesday. Langdale said: "I suggest to you that is not true."
Evans replied: "I did not see you there at the time. It is true."
Earlier Evans told the jury "I'm ashamed to say I lied" but said he was in court now to "be honest, open and truthful and to speaking nothing but the truth".
Evans has pleaded guilty to four charges including one in relation to making a false statement about hacking Kelly Hoppen's phone and two in relation to hacking. The fourth relates to a conspiracy to commit misconduct in public office.
Coulson has pleaded not guilty to a charge in relation to a hacking conspiracy.
The trial continues.