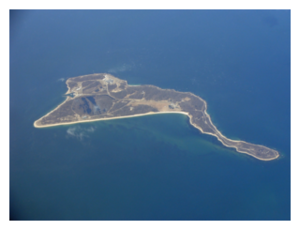 The stories about Plum Island, an unremarkable 3-mile strip off the coast of Long Island that has long played home to the Plum Island Animal Disease Center, are the stuff of comic books and horror movies.
During the cold war, folks said it was home to a secret biological weapons program involving a former Nazi scientist. Years later, it was blamed for the spread of Lyme disease (which was named for a town in nearby Connecticut). The latter claim was so persistent that the Department of Homeland Security still refutes it on its website.
Plum Island has also been the setting for
a novel
and the subject of the
TV show
Conspiracy
Theory With Jesse Ventura,
and it even got a shout-out from fictional bogeyman Hannibal Lecter in
The
Silence of the Lambs
. "Sounds charming," he said of the place.
Now, the government is spending more than $1 billion to move the lab, which studies swine flu, foot-and-mouth disease, and other livestock ailments, from New York to Manhattan, Kan. - and the talk is starting again.
The project, which received $404 million in the latest appropriations bill, has alternately been described as a vital government priority, an "earmarkish" piece of pork, an economic boost to the locals, and a biological danger to a rural community, depending on who is doing the talking. It's a sterling reminder that there is more than one way to view a government expenditure.
As elected officials from Kansas tell it, moving what is now called the National Bio and Agro-Defense Facility from the 843-acre, off-limits campus on Plum Island to a site adjacent to Kansas State University represents a huge economic victory.
"This investment means Kansas will become a research epicenter, and the construction of this modern, world-class facility will ultimately create jobs for Kansans in the fields of engineering, science and technology," crowed Sen. Jerry Moran in a release after the funding was appropriated.
A report in 2012 estimated that the new lab will have roughly 326 permanent employees and support some 757 construction jobs, and that the facility is expected to have a $3.5 billion economic impact on Kansas in the first 20 years alone. The state has also committed to this project by contributing $202 million.
"Many members of the Kansas Congressional delegation have worked tirelessly on this for many years," Kansas Gov. Sam Brownback said in a release.
But not everyone is smiling.
For those who oppose the relocation, news of the funding represented the inevitability that one of the world's largest "germ labs," as they describe it, will be located in their community, in the heart of cattle and agricultural land.
Bill Dorsett, of the group No NBAF in Kansas, said Monday that the funding was not necessarily a surprise, but it was a "disappointment." He said he and other opponents still contend research on deadly animal pathogens should remain in isolation, preferably on an island off the mainland - like the one the lab sat upon for roughly 60 years.
Another activist, Thomas Manney, a professor emeritus from KSU's department of physics and division of biology, raised concerns that the location of the lab will put it inside "tornado alley."
"Around here, the university scientists and administrators are generally viewed in very high regard, so when they tell policymakers and the press that it is safe and important, they are persuasive," Manney said. But he added, "Public expression of dissent by scientists who are willing to speak out has been effectively discouraged by the university. Most have not been willing."
Indeed, the Bush administration acknowledged in 2008 there have been accidents at the facility, including one in 1978 involving the release of highly contagious foot-and-mouth disease into cattle-holding pens on Plum Island. As a result, the lab instituted more stringent bio-containment measures.
The lab is also a potential terrorism target. Plum Island was on a list of targets found when a Massachusetts Institute of Technology graduate working as a scientist for al-Qaida was captured in Afghanistan in 2008.
Yet when the government announced that a new state-of the-art facility would be built to replace the aging lab on Plum Island, many locales jumped to compete. Kansas was selected after a three-year process that began in 2006 with 29 sites competing.
Today, the lab is depicted by government officials as a vital cog in the nation's war on bioterror, and Homeland Security says the relocation process included assessments of the environmental and security risks involved.
"The main laboratory will boast safety and security features recommended by the National Academies of Sciences," Moran said in his release. "It will include specialized air and water decontamination systems, new technologies for handling solid waste onsite, and structural components to strengthen the laboratory against hazardous weather conditions."
Back in Washington, it wasn't the germs that caused some to be concerned. It was the money. Steve Ellis, vice president of Taxpayers for Common Sense, cited the $404 million for the project as an "earmarkish and earmark-esque" provision in the appropriations bill.
But Garrette Silverman, a spokeswoman for Moran, counters that the project "is about as far from an earmark as you can get." It is a DHS priority, she said, and has been supported by two administrations as vital to addressing biological threats.
"Kansas was unanimously selected on its merits as the best location for NBAF by a select panel of scientists and experts from DHS and the U.S. Department of Agriculture," she said.
For now, the fiscal fights in Washington may have slowed the pace of actual construction. President Obama originally proposed spending $714 million in 2014, but only $404 million was appropriated. That plus earlier federal expenditures and state money amount to about two thirds of the total cost of the project. An official groundbreaking has already been held, and completion is expected in 2018.
Whatever the arguments, the lab is heading to Kansas.