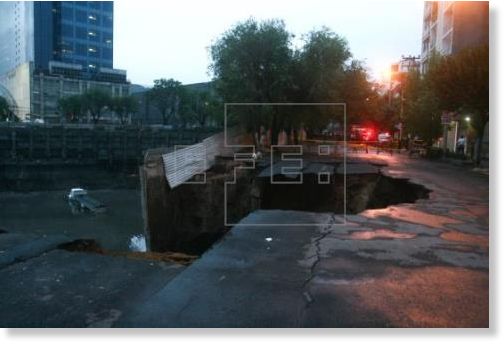 Mexico City, Jan 23 (EFE).- The western part of Mexico's capital was plunged into traffic chaos on Thursday after a water-main break created a sinkhole on the city's outer beltway.
The hole, which is 2 meters (6.5 ft.) wide and 3 meters (9.8 ft.) deep, lies at the beltway interchange with two main surface thoroughfares.
Police have been deployed in an effort to ease traffic tangles, the Mexico City Public Safety Department said, adding that repairs to the water main are expected to take 12 hours.
The capital's mayor, Miguel Angel Mancera, asked the private firm that operates the Autopista Urbana Norte, which runs along a second deck built above the beltway, to waive tolls during the emergency.
"The instruction is given, it (the highway) should be open already," Mancera said.
He blamed the initial rupture on the age of the water pipes in the Valley of Mexico region, some of which are 70 years old, and said that some 13,000 kilometers (8,000 miles) of pipe need to be replaced.