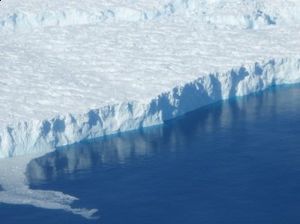 Human CO
2
just not a big deal at Pine Island Glacier
Scientists at the British Antarctic Survey say that the melting of the Pine Island Glacier ice shelf in Antarctica has suddenly slowed right down in the last few years, confirming earlier research which suggested that the shelf's melt does not result from human-driven global warming.
The Pine Island Glacier in West Antarctica and its associated sea ice shelf is closely watched: this is because unlike most of the sea ice around the austral continent, its melt rate has seemed to be accelerating quickly since scientists first began seriously studying it in the 1990s.
Many researchers had suggested that this was due to human-driven global warming, which appeared to be taking place rapidly at that time (though it has since
gone on hold for 15 years or so
, a circumstance which science is still assimilating).
However back in 2009 the British Antarctic Survey sent its Autosub robot probe under the shelf (famously powered by some 5,000 ordinary alkaline D-cell batteries on each trip beneath the ice, getting through no less than four tonnes of them during the research). The Autosub survey revealed that a previously unknown marine ridge lay below the shelf, over which the icepack had for millennia been forced to grind its way en route to the ocean. However in relatively recent times the ice had finally so ground down the ridge that the sea could flow in between shelf and ridge, freeing the ice to move much faster and warming it too.
As we
reported at the time
, this caused BAS boffins to suggest that the observed accelerating ice flow and melt seen since the '90s was actually a result of the ridge's erosion and sea ingress, rather than global warming.
Now, the latest BAS research has revealed that rather than accelerating, "oceanic melting of the ice shelf into which the glacier flows decreased by 50 per cent between 2010 and 2012".
The BAS goes on to explain:
Observations made in January 2012, and reported now in [hefty boffinry mag] Science, show that ocean melting of the glacier was the lowest ever recorded. The top of the thermocline (the layer separating cold surface water and warm deep waters) was found to be about 250 metres deeper compared with any other year for which measurements exist.

This lowered thermocline reduces the amount of heat flowing over the ridge. High resolution simulations of the ocean circulation in the ice shelf cavity demonstrate that the ridge blocks the deepest ocean waters from reaching the thickest ice ...

In January 2012 the dramatic cooling of the ocean around the glacier is believed to be due to an increase in easterly winds caused by a strong La Ninã event in the tropical Pacific Ocean.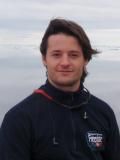 Dr Pierre Dutrieux of the BAS adds, bluntly:
"
We found ocean melting of the glacier was the lowest ever recorded, and less than half of that observed in 2010. This enormous, and unexpected, variability contradicts the widespread view that a simple and steady ocean warming in the region is eroding the West Antarctic Ice Sheet
."
The Science paper can be read by subscribers to the journal
here
. The BAS announcement of the results can be read
here
. Readers unfamiliar with the rules of the climate game should note that the term "climate variability" as used in those documents means for this purpose "climate effects not caused by humans". ®
Think this article is evil?
The usual suspects will no doubt choose to play the man rather than the ball here and complain that this article is an example of cherry-picking by an evil climate "denier", probably funded by the Koch brothers and unqualified to write on climate matters - and also that we never point out other research suggesting that in fact the Antarctic sheet will shortly slide off into sea inundating us all in
movie-plot menace style
.
Some notes on that:
1) We here on
The Register
climate desk actually do offer
plenty
of standard doom
coverage
- knock yourselves out, green readers. At the moment it is mostly not nearly as much read as the sceptical stuff. That latter may serve to illustrate the fact that reputable research from top boffins like this, suggesting that the human race is perhaps not imminently menaced by carbon emissions, is news - whereas the idea that it is imminently menaced is rather old hat.
2) Your correspondent "denies" nothing. CO
2
is a greenhouse gas, plain and simple, and massive releases of it will obviously warm the atmosphere up to some degree. How much remains pretty uncertain: and the consequences of this uncertain warming in terms of sea levels, crop yields etc are very uncertain indeed. But it could be true that carbopocalypse is upon us - just as it could be true that we face species extinction or global disaster in the coming century from an asteroid or comet strike, or global pandemic, or some other threat.
3) What is really a lot more certain - and this is
admitted
by hardline greens - is that a shift to all or mostly renewable power means incredibly expensive energy and abandonment of economic growth. That means that the great majority of the human race, including many rich westerners who today live in reasonable comfort, must henceforth descend into/remain in miserable poverty under such a plan. Expensive luxuries such as welfare states and pensioners, proper healthcare (watch out for that pandemic), reasonable public services, affordable manufactured goods and transport, decent personal hygiene, space programmes (watch out for the meteor!) etc etc will all have to go if there is to be no economic growth. It won't be a painless matter of buying a G-Wiz, insulating the loft and getting rid of some small, cheap government departments like the nuclear weapons programme.
4) It is very likely, then, that the suggested climate cure will cause more misery than the disease. Sea defences capable of dealing with a 1m rise would be very, very cheap by comparison and a lot of farmers would
actually be better off
under global warming.
5) As to the ad hominem criticism. Your humble correspondent today, it is true, holds no PhD in climatology, pays only occasional visits to the climate beat over relatively recent times, and - horror - for a long time was not even a journalist (!). However the idea that this means I must not report on climate-related matters while normal environment or "science" correspondents can would seem pretty silly. Many such normal correspondents visibly don't even understand
what a Watt is
,
how windfarms are paid for
, etc etc. Frankly, if my climate/energy reporting is ignorant or activist, it is much less so than most.
6) The more general idea that The Register must not report on climate matters (unless, presumably, we do so in a politically correct way) falls under the eternal "where's the IT angle?" complaint and will not be given a lot of sympathy. We've always been "Sci/Tech news for the World", remember.
7) Koch brothers/oil industry funding. The only money we at The Reg have ever had that you could put even close to this are a couple of minor ad deals with the Norwegian government petro firm, Statoil. Those ads sought to suggest that Blighty might like to buy more relatively clean and reliable natural gas to help fund Norway's social miracles - as opposed to turning to coal or buying unreliable supplies from the Kremlin to fund weapons programmes and oppression. That ad money was not enough to be important to The Register commercially and involved no influence whatsoever on editorial stance - none was so much as hinted at. Your correspondent personally has never received a penny from writing about climate/energy issues other than as part of a Register salary.
8) Given all the above, comments on this site which just say "Lewis is evil" or "you know this is all utter guff" or in particular which show signs of being astroturf are, yes, liable to be suppressed. Play nice, commentards - especially new commentards.
Lewis Page served as an officer in the Royal Navy from 1993 to 2004, and is now an author and authority on military matters. His book Lions, Donkeys and Dinosaurs: Waste and Blundering in the Military was published in 2006. He is a regular contributor to the
Register
and
Prospect magazine
.