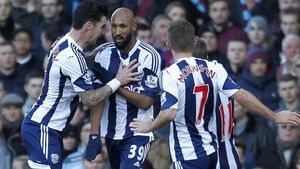 Frenchman Anelka, 34, celebrated his first of two goals in the 3-3 draw by apparently making a gesture known as the 'quenelle' in France, where it can have anti-semitic connotations. It is made by touching the right shoulder with the left hand, keeping the right arm pointed downwards.
Anelka could face punishment if his actions can be shown to be offensive, insulting, abusive or political.
The signal, popularised by French comedian Dieudonne M'bala M'bala, has been described as a reverse Nazi salute and is widely seen as being anti-Zionist and anti-Israeli. Dieudonne claims
it is anti-establishment and not aimed at Jews
.
Dieudonne - who originally started out as a left-wing activist but has since aligned himself with far-right parties associated with France's Front National, and some Islamist organisations - has been convicted for making anti-semitic remarks on six occasions, and in 2008 was fined 7,000 euros for describing Holocaust remembrance as "memorial pornography".
Anelka knew what he was doing and has previously been pictured making the gesture with the comedian.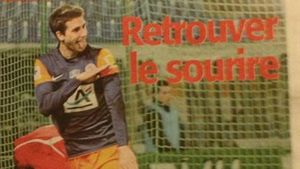 Whether he was aware of its connotations or not, fans and journalists in France have widely condemned the act.

Comment: Judging by the millions of ordinary French people who've sent in photos of themselves doing 'La Quenelle' to Dieudonné's website, the vast majority of French people are in support of it because they get the joke!


Earlier on Saturday, French Minister of the Interior Manuel Valls told
Le Parisien
he "will do anything to prevent Dieudonne from campaigning for anti-Semitism and racism", also calling the 'quenelle' an anti-Jewish gesture.
In a series of tweets, French journalist Philippe Auclair described the 'quenelle' as "supposedly an anti-establishment statement but it can also be read as an inversion of the Nazi salute... cretinous at best."
Source: Eurosport