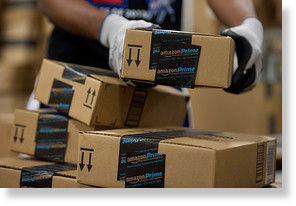 Some Christmas Packages Aren't Delivered
A surge in online shopping this holiday season left stores breaking promises to deliver packages by Christmas, suggesting that retailers and shipping companies still haven't fully figured out consumers' buying patterns in the Internet era.
Companies from Amazon.com Inc. to Kohl's Corp. and Wal-Mart Stores Inc., having promised to deliver items before Dec. 25, missed some delivery target dates.
United Parcel Service Inc. determined late Tuesday that it wouldn't deliver some goods in time for Christmas, as a spike in last-minute shopping overwhelmed its system. "The volume of air packages in the UPS system did exceed capacity as demand was much greater than our forecast," a UPS spokeswoman said.
Consumers were reporting missing deliveries from FedEx as well, although a FedEx spokesman said the company wasn't experiencing significant delays.
Americans tend to go online for a bigger proportion of their Christmas shopping than for their buying during the rest of the year. This year, the trend's acceleration apparently took some stores and carriers off-guard.
E-commerce accounts for about 6% of overall U.S. retail sales, according to the Commerce Department. This holiday season, online purchases will be nearly 14% of sales, estimates the National Retail Federation.
During the last shopping weekend before Christmas, Web sales jumped 37% from the year before, according to IBM Digital Analytics. Market research firm Forrester Research expects online sales to increase 15% this holiday season amid slow mall traffic and weak sales at brick-and-mortar retailers.
Although weather, Web glitches and late deliveries from manufacturers played a part in late deliveries, the sheer unanticipated volume of holiday buying this year may have been the biggest problem, retail analysts said.
Having pushed delivery deadlines later this year, some merchants weren't ready for a jump in online orders in the last few weeks of December, said Eric Best, chief executive of Mercent Corp., which helps more than 550 retailers with online sales. "During the holidays, we reach the limits on the capacity of these retailers," he said.
At UPS, which delivers around 45% of U.S. packages, more shipments entered its air network on Monday than the 7.75 million it expected, the UPS spokeswoman said.
In notifications to some Amazon customers, UPS said there were some shipping delays because it had "not yet received the package from the shipper."
"Amazon fulfillment centers processed and tendered customer orders to delivery carriers on time for holiday delivery," said an Amazon spokeswoman Wednesday. "We are reviewing the performance of the delivery carriers."
The spokeswoman also said Amazon refunded any shipping charges associated with the impacted shipment and provided a $20 gift card. She declined to say how many customers had been impacted or offered such a rebate.
On Christmas Eve, Brandon Scott was still waiting for a 46-inch Samsung TV and Kate Spade watch he ordered from Amazon on Saturday.
"I'm frustrated because these items could have easily been purchased at various retailers in my area, something I would have gladly done had Amazon not 'guaranteed' their arrival before Christmas," said Mr. Scott, of Ann Arbor, Mich.
In Alexander City, Ala., Kohl's shopper Andi Burks couldn't give her husband the sweaters she had ordered on Dec. 19, a day before the cutoff for guaranteed Christmas delivery. "I thought that since they had stated on their website that it was guaranteed to arrive on time that I would be OK," she said referring to Kohl's.
Kohl's said on Tuesday it would pay the full cost of all items not delivered in time. "We are deeply sorry for disappointing our customers expecting delivery in time for Christmas," a spokeswoman said.
Groupon Inc. sent customers an email this week suggesting they print out a picture of their present in lieu of the promised on-time delivery of the gift bought through Groupon, as well as a $25 gift certificate. "We know it doesn't make up for the disappointment of not getting your item in time for the holidays," the email said.
The deals site "successfully fulfilled and delivered an overwhelming majority of orders," a Groupon spokesman said.
It is unclear how widespread the delays were. Kohl's, Wal-Mart and UPS said a small percentage of customers experienced delays but declined to say how many.
Part of the problem, some retailers said, was handling an increased number of orders in a shorter period: There were six fewer shopping days between Thanksgiving and Christmas this year.
Typically, about 15% of online shoppers who order items by retailers' specified cutoff dates don't get their packages by Christmas Eve, Forrester Research analyst Sucharita Mulpuru said. But with more online shopping and more gifts being shipped in the mail, the volume of errors is likely to rise, even if the percentage doesn't, she said.
"Retailers think they can take orders up to the last minute, but they just can't pick and pack fast enough," Ms. Mulpuru said.
Retailers like Amazon and Wal-Mart have been building more fulfillment centers and other infrastructure to handle surging online orders. This year, Amazon hired 70,000 seasonal workers for its U.S. warehouses, a 40% increase from the year before.
To ease pressures on possible shipping bottlenecks, many retail chains have promoted an option to pick up items purchased online inside stores.
That plan might have backfired for Wal-Mart, where some customers complained that items weren't available for pickup as promised.
As part of its Black Friday promotions, Wal-Mart told shoppers who lined up for door-buster deals that, if the store ran out of an item, they could register online for it. Then, the item would be shipped to the store for pickup by Dec. 22. But in some cases, those items weren't available then.
Wal-Mart said the issue affected only a small percentage of the five million people who took part in the promotion.
The company said it would give $25 gift cards to customers that didn't get packages in time for Christmas. "We extend our deepest apologies to customers who did not get their orders in time," spokeswoman Jaeme Laczkowski said.
By Christmas Eve, it was too late for customers like Terence Kavanaugh in Louisville, Ky. After losing hope on getting the $98 Emerson television he bought his 9-year-old daughter at Wal-Mart over Thanksgiving weekend, he went to Best Buy and bought a TV set for $179.
"It's more expensive but I'm not going to let Wal-Mart ruin my daughter's Christmas," he said.