A scientific mission ship, trapped in dense pack ice off East Antarctica since Christmas Day, is close to being rescued as a Chinese icebreaker nears.
The crew can see the Snow Dragon icebreaker, which will try to cut a path through the ice allowing the research vessel to reach open water.
The Russian Academic Shokalskiy ship has 74 on board and is being used by the Australasian Antarctic Expedition.
They are following the route explorer Douglas Mawson travelled a century ago.
One of the leaders of the expedition, Chris Turney,
tweeted an image of the Snow Dragon icebreaker
on the horizon as it approached the ship.
'Like lancing a wound'
He described to the BBC how it was opening up a channel in order to help the stranded vessel get out of the ice.
"It looks like it's doing well at the moment which is great news. It's basically like lancing a wound. So, it's trying to get in, opening up a channel for us to get out.
"If that's not enough it will probably go into the second mode which will be effectively going around in the shape of a doughnut to relieve that pressure and hopefully that will give us enough give in the ice to break free and follow it back out," he said.
The Chinese icebreaker - twice the length of the Shokalskiy - may ask for assistance from two other boats, the French vessel L'Astrolabe and Australia's Aurora Australis.
The research ship was trapped by thick sheets of ice that were driven by strong winds
about 1,500 nautical miles south of Hobart - the capital of the Australian state of Tasmania.
There had also been fears that blizzards could hamper the rescue effort.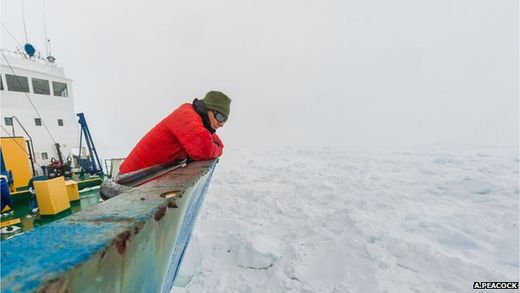 The Shokalskiy is well stocked with food and is in no danger, according to the team.
Although trapped for the moment, the scientists are continuing their experiments. They have been measuring temperature and salinity through cracks in the surrounding ice.
Science volunteer Sean Borkovic told the BBC: "I'll always remember this, that's for sure. It's brilliant. We've got some lovely light and the weather's pretty mild considering. The ship looks solid. I think we'll be good."
A visit from Secret Santa and a sumptuous Christmas dinner
cranked up the celebratory mood.
The goal of the modern day Australasian Antarctic Expedition is to repeat many of the original measurements and studies of the Mawson expedition to see how facets of the environment have changed over the past century.