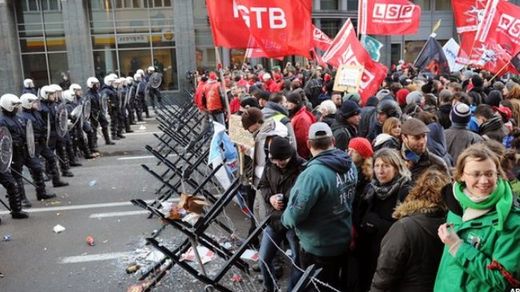 Hundreds of people have demonstrated in the Belgian capital Brussels to demand that EU leaders meeting in the city put an end to government spending cuts blamed for mass joblessness and a growing social crisis in parts of Europe.
On Thursday, the demonstrators used tractors and bales of hays to block traffic around the site of the EU summit to protest many of the policies the 28 leaders would discuss during the meeting.
"The idea is to block access to the European summit," said Nic Goertz, a spokesman for the demonstrators, noting that 1,500 protesters had gathered in the Belgian capital.
The protests were organized by Alliance D19-20 which includes trade unions, farmers and groups from across Europe that are unhappy with EU cuts and a Transatlantic Trade and Investment Partnership free-trade agreement that is being discussed with the US.
Opponents of the controversial trade deal argue that agreement is nothing more than a ploy by corporate lobbyists to ensure that new laws and regulations benefit large corporations.
The protesters at Thursday's demonstrations said they want a "Europe for the people, which respects the workers and allows all European workers to have decent working conditions."
Issues ranging from defense and banking to relations with Ukraine, the crisis in the Central African Republic, and Europe's economic crisis are on the two-day summit's agenda.