UPDATE:
The earlier rumors have been confirmed: People's Bank of China told more than 10 third-party payment service providers yesterday not to give clearing services to online Bitcoin exchanges, China Business News reports, citing a central bank meeting with the companies. This news is pressuring Bitcoin to $678 (on Mt.Gox) but more notably, BTC China rates imply a $588 equivalent price - down 57% from its highs. From a $100-plus premium, BTC China now trades $130 cheap to Mt.Gox as the 'arb' flips.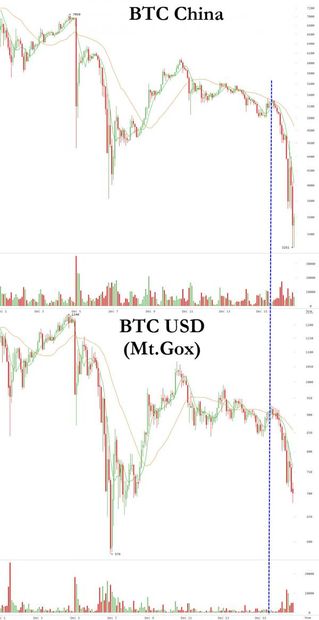 Talk from the
PBOC (via Sina)
that "the central bank directs: third party payment institutions shall not undertake business with Bitcoin hosted sites," appears to be responsible for the slump in the virtual currency once again. This expands the PBOC's earlier Bitcoin ban to other institutions.
Bitcoin prices have dropped over 20% from their overnight highs - trading at around $715 now
. Perhaps even more notable is the relationship between Bitcoin and the precious metals today with the early Bitcoin weakness corresponding almost perfectly to gold and silver strength (and again mid-morning in the US).