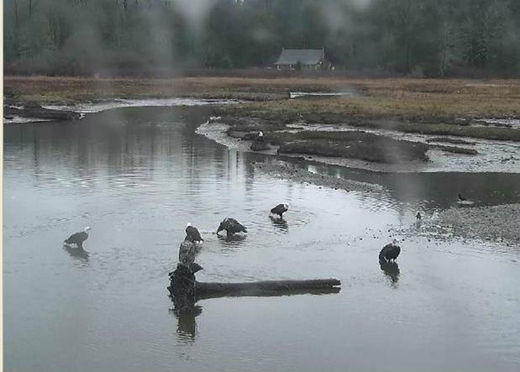 The eagles have landed
in droves
at Goldstream Provincial Park.
"Every year we have the eagles that come after the salmon run but this year there seems to be more than previous years," said park naturalist Bre Robinson.
The flock has more than doubled from the
65 last year to 158 counted today
(Dec. 12).
They scan the park with binoculars as a head count,
but figure there's even more.
"Those juveniles camouflage quite well so I"m sure we missed some," Robinson said.
Theory is that a lack of rain caused the jump in eagles this year. They come for the rotting fish left post-spawn.
"Usually we get a big rain and it washes all the salmon carcasses out into the ocean," Robinson said, adding the eagle run is often forgetting in the wake of the salmon run. "The eagles will be here about another week or so right up to Christmas."
While the abundance of rotting flesh brings extra birds to watch, naturally there's some odour to prepare for when visiting.
"We're calling it the smell of success," Robinson said with a chuckle.
Source: Goldstream News Gazette