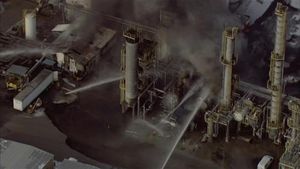 Two people were injured in a chemical plant explosion in Blue Island.
Two workers were injured in an explosion and fire at a south suburban chemical plant Friday.
Smoke billowed from Blue Island Phenol in Alsip for several hours because of a chemical leak. The cause is still under investigation, fire officials said.
"I could see some vapor," plant manager Bill Moffatt said. "I turned around to go to my office to get my coat and hard hat and other personal protective equipment. As I was walking back to my office there was a concussion. ... We have a suspended ceiling in the office building, and some of the tiles fell out."
The chemicals involved in the fire - which demolished one building and damaged a second - were propane, propylene and benzene, Alsip fire Chief Tom Styczynski said.
Two workers were burned in the explosions and taken to Advocate Christ Medical Center in Oak Lawn. Moffatt said they were later taken to Loyola University Medical Center in Maywood, where they were in stable condition. All other employees were accounted for.
About 10 firefighters worked to put out the fire, but crews from as many as 40 area fire departments and law enforcement agencies responded to act as backup in case the fire spread.
The plant's deluge system - a type of high-volume fire sprinkler that dumps a large amount of water in an area all at once - did much to extinguish the fire, Styczynski said.
"We kept everybody outside of the plant because of the chemicals and the type of chemicals that were there," Styczynski said.
Roads were closed, all manufacturing processes at the plant were shut down and the natural gas line to the area was shut off during the fire. Five neighboring businesses were temporarily evacuated.
Blue Island Phenol was the site of a chemical release and fire in 2008. Illinois Attorney General Lisa Madigan ordered the plant to keep a phenol manufacturing unit shut down until the cause of that fire was determined; the company also was ordered to investigate whether soil and groundwater were contaminated.
Raw video footage
here
.