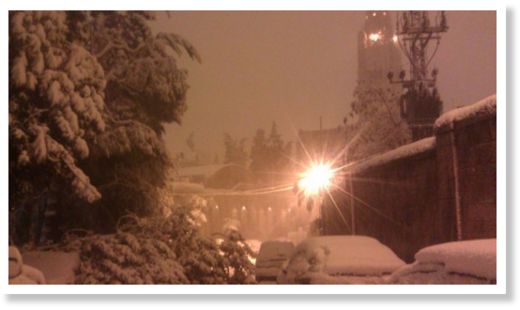 Police tell Jerusalemites to stay home; electric corp. declares national state of emergency; IDF and police rescuing hundreds of travelers stranded near capital
The Israel Electric Corporation declared a nationwide state of emergency Friday as tens of thousands of homes in Jerusalem and the surrounding region remained without power amid the severe winter storm currently besieging the area.
The electric company said it was manning a situation room to receive reports of outages and was calling in emergency workers to help restore power to those affected in certain parts of Jerusalem, Mevasseret Zion, Har Adar, Abu Gosh and Tzur Hadassah where many power lines were hit by fallen trees.
"We did not anticipate the storm to be on this scale," Oren Helman from the electric company told Channel 2 news.
A military source told Ynet that the IDF offered to assist Palestinian Authority forces in the West Bank who were also dealing with power outages.
Earlier Friday, Ben Gurion Airport closed briefly as the unprecedented winter storm - bringing the heaviest December snows on record to Jerusalem - continued to batter the country for a third day. Two incoming flights initially rerouted to Larnaca, Greece were set to land in Tel Aviv.
Police instructed citizens Friday to stay indoors and avoid driving on roads, citing life-threatening dangers.
The main arteries leading in to and out of Jerusalem, Highway 1 and Road 443, were closed off after thousands of people were left stranded overnight Thursday-Friday by the heavy snowfall, leading the IDF, the police and volunteers to launch rescue operations.
Police said Friday morning that a rescue operation on Road 443 was completed, after rescuers evacuated some 600 travelers from that route.
Crews worked throughout the night and into the morning to rescue travelers in cars and buses trapped on the roads, at one point putting out a public call for help from anybody with a 4X4 vehicle.
More than 4,000 people were rescued from vehicles since Thursday night, according to Israel Radio, and hundreds were evacuated to shelters set up at convention centers in the city, including the International Convention Center, or Binyanei Hauma.
The Defense Ministry said it was sending emergency generators and meals to those currently at the centers.
"We are expending every effort to rescue all the people caught in the storm. Only after [the snow] stops will we be able to open the roads," said Jerusalem Mayor Nir Barkat. "We're facing a rare storm the likes of which we've never seen."
The city said it sheltered 540 people at the convention center and rescued 11 buses trapped in the storm.
Power outages also plagued the capital and the surrounding areas, leaving many without heat to seek shelter at the centers.
Public transportation into and out of the city has been called off until at least Saturday evening, and disruptions in bus services were reported throughout the country.
Police were also preparing for floods on the Ayalon Highway in Tel Aviv Friday as rainfall and thunderstorms continued.
Jerusalemites awoke Friday morning to a city covered in white, as the punishing winter storm dumped between 30-50 centimeters of snow on the capital. Flurries were expected to continue in Jerusalem throughout the day.
In the capital and in a number of places throughout the country, schools were shut down due to the snow and heavy rainfall, which left some streets flooded.
Though snow is not unheard of in Jerusalem, it rarely hits this early.
The wet weather, typical of an early winter storm, combined with unusually low temperatures to blanket the capital and other mountainous areas, including the West Bank, the Galilee and the Golan Heights, in snow.
Elsewhere, heavy rains and punishing winds brought down trees and flooded out roads.
In Modi'in Ilit, a 1-year-old baby was moderately injured late Thursday night after a roof collapsed on a modular building being used a synagogue. Four other people were lightly injured.
On Thursday, the IDF's elite 669 search and rescue unit retrieved 10 trapped passengers from a commercial vehicle that was swept away by flood waters in Nahal Gerar, north of Beersheba. The passengers, nine of whom were children, were airlifted to Beersheba's Soroka Medical Center in fair condition.
Classes in Jerusalem and other areas were called off Thursday and Friday as authorities braced for snowfall to continue into the weekend.
The Education Ministry set up a hotline for parents to get information about school arrangements. The number is 02-6222211.
The snow began falling in Jerusalem shortly after sunrise Thursday and thin layers of snow began to form on cars. In elevated neighborhoods such as Gilo, the snow piled up, and residents huddled in bus stops, waiting for buses that had temporarily stopped running.
By Thursday night, flurries were reported as low as the settlement of Beit Horon, which at 630 meters above sea level, rarely sees snow fall.
The stormy weather was expected to persist into the weekend, with snow reaching elevated areas as far south as the Negev Desert on Friday.
On Wednesday,
high winds, torrential rain
and floods inflicted damage in many areas, with some injuries caused by flying debris.
Over 24 hours between Wednesday and Thursday morning, some 103 millimeters (four inches) of rain - the monthly average - fell in the capital and 35 mm (1.4 inches) in Tel Aviv.
There were several incidents of people caught in flash floods that swept their cars away.
One man was reported missing after storm waters rushed through a wadi where he was hiking in the Judean desert.
Flash flood chasers streamed down to wadis around the Dead Sea region in the hope of catching the storm waters as they pounded down from the Jerusalem mountains, but some became trapped as roads were flooded in the surge.
Jerusalem authorities had prepared to counter the snow, with 90 tons of salt as well as snowplows being readied. Other municipalities in the country's north had also braced for snowfall, notably Safed and neighboring towns in the mountainous northern Galilee and elevated communities in the Golan Heights.
"Snow in Jerusalem is a cause for celebration for Jerusalemites and the many visitors who come to see the world's most beautiful city painted white," said Barkat, who dropped in on the city's public works department to check on preparations for the storm Wednesday. "We hope the snow won't disappoint, especially for Jerusalem's excited children, who are looking forward to it."
Inclement weather was also felt in the Gaza Strip, where Hamas's health ministry said 30 people were evacuated to hospitals after heavy rains caused flooding on Wednesday. Gaza's Interior Ministry said the roof collapsed on a house in the coastal strip, injuring three people, and families were moved into shelters because of flooding.
The Associated Press contributed to this report.