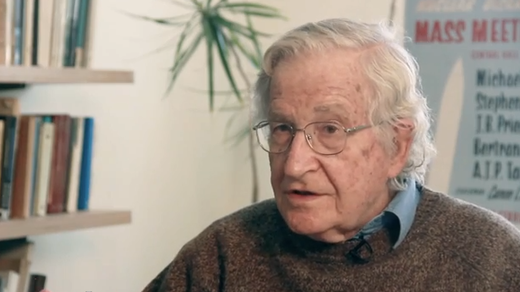 The United States waged a decades-long war against Catholics who practiced the teachings that got Pope Francis named as
Time
magazine's person of the year, said political philosopher Noam Chomsky.
He said that the 1962 Vatican II conference had restored the Gospels to the Roman Catholic Church for the first time since the 4th Century, when the Roman Empire took over Christianity as its official religion, and this had a profound effect on religious leaders in Latin America.
Chomsky said in an interview last week with social justice activist
Abel Collins
that priests or lay people set up groups with Latin American peasants to read the Gospels and encourage them to demand more rights from the region's military dictatorships - which became known as liberation theology.
"There is a reason why Christians were persecuted the first three centuries," Chomsky said. "The Gospels are radical - it's a radical text - that's a basically radical pacifism with its preferential option for the poor.
He said liberation theology's practitioners were systematically martyred over more than 20 years by U.S.-backed forces to prevent Latin American nations from installing socialist governments to benefit their own people, rather than American interests.
"The U.S. went to war (and) fought a bitter, brutal, violent war against the church," Chomsky said. "If we had a free press that's the way they'd present it."
He said the U.S. supported the "overthrow of governments and institution of neo-Nazi-style dictatorships" as part of a war that finally ended in 1989 with the murder of six Jesuits and two women at the University of Central America by Salvadoran troops.
Chomsky said those troops had received training by the U.S. at the Kennedy School of Counterinsurgency Warfare and acted on official orders from the Salvadoran command, which was close to the U.S. embassy.
"I don't have to attribute this to the government," he said. "It accepts this, the School of the Americas, which trains Latin American officers - killers, basically - one of its talking points is that the U.S. Army helped defeat liberation theology."
Pope Francis, an Argentine Jesuit, has made
symbolic gestures
to welcome liberation theology back to the church after years of condemnation for its political aspirations by popes John Paul II and Benedict XVI.
His recent
Evangelii Gadium
, or Joy of the Gospel, was viewed by many as an attack on capitalism and free-market economics, but Chomsky said that so far the pope had not put his words into action.
"I like the fact that the tone has shifted, (and) there's more, better words about social justice, but we have to see if it crosses the point where it leads to, say, organizing people to insist on their rights and to pursue the path of preferential option for the poor, (to) take the Gospels seriously," Chomsky said. "If it gets to that point, then I think we'd see the same reaction."