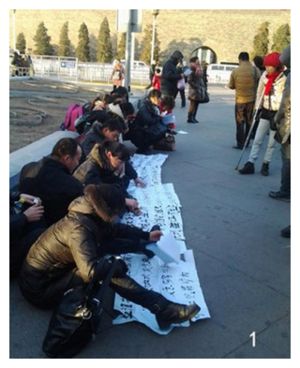 Twelve people from Wuhan in central China's Hubei province attempted to commit suicide together in Beijing after their petitions against the forced demolition of their houses three years ago received no response.
They have been hospitalized after drinking pesticide but two have since fled and another three are otherwise unaccounted for, reports Hong Kong's China Review News Agency.
The petitioners, three men and nine women from Wuhan's Jiangan district, drank pesticide in Zhengyangmen in Beijing at around 4pm on Tuesday to protest against the forceful demolition of their houses and unfair compensations.
Their houses were demolished when their village, Xinchun, was remodeled in 2010. They did not reach an agreement on compensation with the village committee but their houses were destroyed without their consent. They had traveled to Beijing to petition multiple times over the past few years.
One of the three men in the group said they had planned to kill themselves in November but they were prevented by officials who discovered their plan.
They stated their suicide plan in Beijing again in the same month and to multiple government departments in Wuhan in the hope of securing their attention.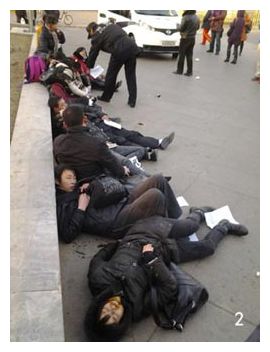 On Dec. 10, they displayed their petition and the pesticides on the ground at Zhengyangmen. A number of police officers and officials watched from a distance but did not intervene. After they drank the pesticide, police officers took away the chemicals and the petitioners were immediately sent to several hospitals.
However, two of the women later fled and the whereabouts of another three petitioners are unaccounted for. The seven remaining in hospital were given intravenous injections, with doctors saying that it will take several days to lower the levels of toxicity in their bodies.
One of the petitioners, Nie Yuhua, 49, said she and her husband spent a million yuan (US$164,000) to buy two small houses for themselves and their two sons as well as six factory buildings in 2006.
However, their properties were included in the city's remodeling plan in 2010 and the local government would only pay them 700,000 yuan (US$115,000).
Zhu Shigui said he and his relatives spent 600,000 yuan (US$98,000) to buy land and build two houses in 2005 but they only received 300,000 yuan (US$49,000) in compensation in 2010. He has since given up his metal recycling business and traveled to petition in Beijing 18 times.
The other petitioners have had similar experiences over the past four years, while some have not received any compensation so far.