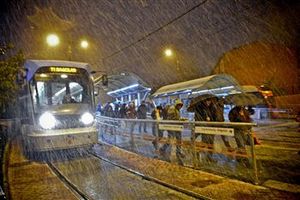 The first snow of winter started to fall in Istanbul tonight as the Istanbul Metropolitan Municipality took tight measures to prevent disruptions to traffic and public transport.
Snow began falling on Istanbul's outskirts in the afternoon and intensified in the late hours of the evening in the center of the city. The snowy weather is expected to affect Istanbul until Dec. 12, meteorological officials said.
Officials at Istanbul Atatürk Airport are also taking measures against icing on the runways. Traffic on seabuses and city ferries was disrupted due to strong winds on the Bosphorus and the Marmara Sea.
The Champions League game between Galatasaray and Juventus was also postponed until further notice after snow blanketed Türk Telekom Arena's pitch.
The Istanbul Governor's Office said schools could be suspended in the event of heavy snow.
Snowy weather is also expected to affect the Black Sea region and East Anatolia.