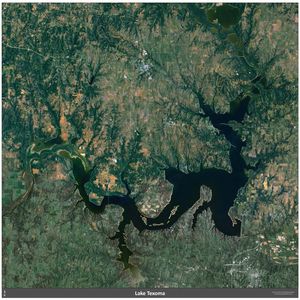 Lake Texoma -- Bryan County residents and first responders were in for a scare Saturday night when they received reports of a plane crashing into Lake Texoma.
Grayson County received a 91-1 call last night reporting a plane crashing into Lake Texoma. After investigating, authorities found what appeared to be a fiery crash may have been a meteor falling from the sky.
When the Grayson County Sheriff's Office received a 9-11 call Saturday night reporting a plane engulfed in flames crashing into Lake Texoma. A mutli-agency investigation was launched.
According to Deputy Vinny Cacace, " Bryan County Sheriff's Office, Cartwright, Colbert fire, Colbert Police Department, Lighthorse Police Department, Emergency Management, Denison Fire of course launched on their side and Grayson County, Marshall County did the same as well."
The responding agencies used all resources available to them to locate the reported plane.
Deputy Cacace, "OHP did have a boat in the water. We launched air one from Bryan County Sheriff's office. He responded and searched the shore line."
After investigating for two hours, authorities found no evidence of a plane crash.
Deputy Cacace, "No oil spill or sheen from gasoline where the plane might have entered the water. There's no evidence whatsoever in our area that a plane has crashed."
The investigation was closed just before midnight Saturday. Authorities say the reported fiery crash could have been a meteorite.
Meteorologist Tom Hale agrees, " Every November, about this time of year, we find a shower called the Leonids, and last night the likelihood was that this meteor was part of the Leonid meteor showers."
Meteorites fall when their particles get picked up by gravity. Hale says it's not uncommon for people to mix up things in the sky, "sometimes they assume that if it's in the air it's either a bird, a plane, superman, or it's a meteor."
Hale explains why it's easy for a meteor to be confused with a plane crashing, " when it comes into the atmosphere, it glows, it becomes luminous. And it heats up as it comes flying into the atmosphere and it's moving fast enough that it gives appearance of being a streak. Just like watching tail lights on a car moving fast down the free way."