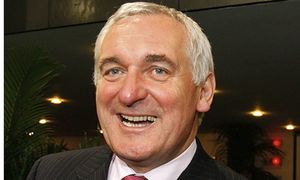 Ireland's former prime minister Bertie Ahern was assaulted in a Dublin pub on Friday night.
Ahern was attacked with a crutch by a man in his forties inside the Sean O'Casey bar just off O'Connell Street, the Irish capital's main thoroughfare.
His attacker, who was said to be extremely drunk, was later arrested by the Garda Síochána and detained overnight in a city centre police station.
The former taoiseach has declined to talk about the attack, which comes three years after he was verbally abused by a number of customers in another Dublin pub.
Many who lost out when the Celtic Tiger economy crashed blamed Ahern and his Fianna Fáil party for fuelling a property boom based on credit.
However, Ahern from 1997 onwards was one of the country's most successful and at the time popular premiers, and went on to win three general elections in a row.
While Ahern has faced the wrath of angry Irish citizens caught in debt and a negative equity crisis, the ex-prime minister received glowing praise from Alastair Campbell last week. Tony Blair's former spin doctor told a Dublin audience at his book launch in the city that without Ahern there would have been no peace process or power-sharing agreement in Northern Ireland.