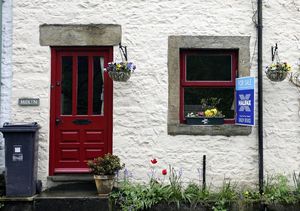 It took more than a year for Mark Hudson to find his six-bedroom home in the English countryside. Within weeks of moving in, he got a bid that topped the 1.75 million pounds ($2.8 million) the property cost.
"Somebody called offering a significantly higher sum," said Hudson, a 55-year-old manager at a publishing company, who in August swapped his home in Clapham, a London district favored by young bankers and lawyers, for Dorset, the farm-dotted county 125 miles (202 kilometers) southwest of London that was the setting for Thomas Hardy's
Tess of the D'Urbervilles
. "It looks like we caught it just at the right time," he said.
Country homes are coming back into fashion, after lagging behind urban locations such as London's West End since the 2007 financial crisis when banks cut off mortgages. Prices for manor houses, farmhouses and cottages valued at more than 750,000 pounds climbed at the fastest rate in more than three years in the third quarter, Knight Frank LLP said in a report today, as Prime Minister David Cameron makes reviving the housing market central to his efforts to pull the economy out of recession.
"It's U.K. economic growth and broader housing-market confidence," said Liam Bailey, global head of residential research at the London-based property broker.
The government last week introduced the second phase of its Help to Buy program, which offers mortgage guarantees that allow purchases with down payments as low as 5 percent. The first phase, which began in April, provided interest-free loans for buyers of newly built homes.
Bigger Appetite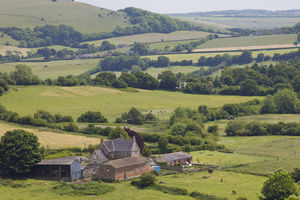 The program has contributed to the most buoyant housing market since the financial crisis, even as two thirds of 31 economists surveyed by Bloomberg described it as "bad" policy.
The government's measure will lead to a stronger market without causing a bubble, the EY Item Club, a London-based group sponsored by Ernst & Young LLP, said in a report today.
"Help to Buy has obviously been a catalyst that has encouraged people," Bailey said by phone. "It's stimulated appetite to get into the market and that's not only the lower-end first-time buyers -- it's right through into the prime sector."
In July, homebuyers took out 3,900 loans of 500,000 pounds or more, the most since September 2007, according to the Council of Mortgage Lenders. There's also more willingness to lend at higher loan-to-value ratios, according to Henry Knight, managing director at mortgage broker Springtide Capital Ltd
.
Two years ago, Barclays Plc's Woolwich unit, Nationwide Building Society and Lloyds Banking Group Plc's Halifax "stopped agreeing mortgages for more than about 1 million pounds, but now they've moved up to 2 million pounds and some have gone to 3 million," Knight said by phone. "There are just more lenders playing in that market now."
Virginia Water
Knight Frank's prime country-house index, based on data from the firm's U.K. branches, shows that prices rose 0.8 percent in the third quarter from the previous three months. Gains were led by Virginia Water, Berkhamsted and Cobham, just outside London. Prices climbed 0.4 percent on an annual basis.
The measure includes manor houses, defined by Knight Frank as a large property standing in extensive grounds; farmhouses, which typically have six bedrooms and several acres of land including garden, paddock and barns; and cottages, which normally have four bedrooms and about an acre of land.
While demand for properties within commuting distance of London was strongest, prime country homes in every region of England climbed for the first time in two-and-a-half years during the quarter, according to a reported published by Savills Plc last week.
'Last Chance'
"This is your last chance to buy before stock goes down and prices really start to rise," Yolande Barnes, director of residential research at the London-based broker, said by phone.
Current offerings of theirs include Park Place, an eight-bedroom period house on the edge of Windsor Great Park with cottages and stables on about 15 acres (6 hectares). The property, about an hour's walk from Queen Elizabeth II's Windsor Castle and close to English private school Eton College, is priced at 20 million pounds.
Savills, along with Hamptons International, is also selling Bayfields Farm, a country house in Hampshire, about 30 miles from Highclere Castle, where TV show
Downton Abbey
is filmed, for 2 million pounds.
The value of U.K. luxury homes had plunged in the wake of the 2008 collapse of Lehman Brothers Holdings Inc. and the ensuing credit freeze and recession. Average prices of homes in London's most expensive neighborhoods fell 25 percent in 2008, while those in the countryside declined 20 percent, Knight Frank's Bailey said.
Mortgages of more than 500,000 pounds to home buyers dropped by almost 50 percent between 2007 and 2008, according to the
Council of Mortgage Lenders
.
Affluent Foreigners
London's property market began to recover in 2009, in part because of affluent foreigners seeking a haven from turmoil in the Middle East and the wider European debt crisis.
These buyers, attracted by mansions a short walk from Harrods and Buckingham Palace, helped push the price of luxury homes in central London up 23 percent since their last peak in the autumn of 2007. Prices of prime country homes remain down 20 percent, according to Knight Frank.
Now the recovery is spreading beyond London. The number of homes sold in the U.K. reached the most in nearly four years in July, according to the Royal Institute of Chartered Surveyors. That helped push the value of prime country homes up for the third consecutive quarter, Knight Frank said. House prices in affluent areas about an hour from London climbed 1.6 percent during the three months, while those in the remainder of the south of England climbed 1.2 percent, according to Savills.
Homebuilders Rise
U.K.'s homebuilders have been among the biggest beneficiaries of revived housing demand. An index of the companies rose 0.9 percent today to close at the highest in two months. That extended its advance to 48 percent this year, compared with a 10 percent gain for theFTSE 100 Index.
Persimmon Plc, the largest U.K. builder by market value, rose the most in almost two months on Oct. 9 after Goldman Sachs Group Inc. said the stock may increase by 70 percent within six months.
Homebuilders are increasing productivity to satisfy new demand, which may be a mixed blessing for country estates.
"Prices are moving up against a background of four years of low supply in the country-house market," Bailey said. "If this positive sentiment pulls in more supply, that will hang a question mark over the sustainability of this growth."
For Hudson, waiting to sell his London home proved fortunate as prices rose in the capital, while he said they fell last year where he was looking.
'Lifestyle Choice'
"You'd see a house listed and a few months later it would still be on the market and the price had dropped," Hudson said. "When we finally bought it was more of a lifestyle choice, we were never sure it was going to be a good investment."
After selling the home in Clapham for 1.3 million pounds, with an extra 475,000 pounds he could afford the six-bedroom country house with a cottage, swimming pool and eight acres of land.
"I had a feeling the time was right and London's housing market was coming to a peak," he said. "Maybe I was wrong on that point, because in fact that peak seems to go on getting higher and higher."