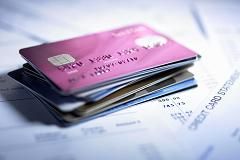 As Washington is struggling with debt and all its political ramifications, American companies and consumers are embracing it, running up record amounts in 2013.
Whether it's corporate loans, all quality levels of bonds or simple consumer credit, the debt party is back on in the U.S., whether it's in the boardroom or the living room.
Amid the financial crisis of 2008, the U.S. went into what economists call a "debt deleveraging cycle" - akin to a credit hangover, where the party has ended and everyone there decides to quit drinking cold turkey.
Somebody has clearly turned the lights back on, though, and corporate and individual buying is soaring.
Consumer credit, for instance, surged past the $3 trillion mark in the second quarter of 2013 and continues on an upward trajectory, according to the most recent numbers from the Federal Reserve.
At $3.04 trillion, the total is up 22 percent over the past three years.
Student loans are up a whopping 61 percent.
Total household debt, according to
the Fed's flow of funds report
, is at $13 trillion, nearly back to its pre-crisis level in 2007 and a shade below government debt of $15 trillion.
"We have not solved (anything) when it comes to the deleveraging myth," said Michael Pento, president of Pento Portfolio Strategies.
"We have learned nothing."
While the specter of another debt crisis might seem scary, some economists tout it as a healthy sign of a recovery. "In a moment of crisis, that's going to come back to haunt you," said Peter Cardillo, chief market economist at Rockwell Global Capital. "As long as you can support that debt through growth, it's really not a major concern."
That's a big "if," and the prospects of rising interest rates could force borrowers back into their foxholes.
But with the U.S. economy growing at a steady, if unspectacular, 2.5 percent rate, economists are mostly dismissive about another debt crisis hitting.
Comment:
The "growing economy" is pure smoke and mirrors. See the website
Shadowstats
for the real picture, in particular this
report
.
Gluskin Sheff's noted bear, David Rosenberg, said the rebirth of leverage is actually a reason for optimism. A July analysis Rosenberg released on the topic marked a sharp change in tone for someone who only a few years ago saw an economy not in recession but rather depression.
"The building blocks for the consumer to grab the torch are being put together with each and every passing data point as of late," he said. "Don't fight it. Embrace it."
Companies have followed that advice.
On the corporate side, debt issuance has surged as well, thanks to some high-profile deals in which companies have been able to go to market and easily raise funds.
Through September, high-yield - or junk - bond issuance came in at $378.2 billion, a new record and a 27 percent surge for the same period in 2012, according to Dealogic.
Sprint notched a record last month, with a $6.5 billion high-yield bond issuance that was embraced by investors.
Top-quality, or investment-grade, debt has roared as well.
Though borrowing slowed in the third quarter as interest rates rose, September marked the sector's best month ever. Total investment-grade volume hit $148.1 billion - the highest month ever - thanks to Verizon's blockbuster $49 billion issuance on Sept. 11, marking the biggest single deal ever.
The debt deluge doesn't end there, either, with lots of loans being taken out as well by companies.
U.S. loan volume alone totaled $1.53 trillion through the first three quarters, a gaudy 25 percent higher than the same period in 2012.
Globally, syndicated marketed loans - put together by multiple parties for a single borrower - hit $2.93 trillion in the first three quarters, a 15 percent annualized gain, with average deal size of $458 million the highest since 2007, Dealogic reported.
High-risk leveraged loans hit a global volume of $1.23 trillion, passing the trillion barrier for the first time since 2007.
Jeff Cox is a finance editor with CNBC.com where he covers all aspects of the markets and monitors coverage of the financial markets and Wall Street. Prior to coming to CNBC, Cox worked at CNNMoney where he wrote a series of analyses, which were the first to tie the surging demand for ethanol to rising prices at the supermarket. He wrote extensively on alternative energy while at CNN and covered technology as well.