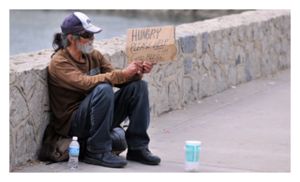 Middle Township - A southern New Jersey town now requires beggars to obtain permits and seeks to punish those who aggressively solicit donations.
The Middle Township ordinance defines aggressive begging as speaking to or following a person in a manner that would cause them to fear bodily harm or otherwise intimidating someone into giving money or goods.
The ordinance requires those who solicit money to obtain a permit at no charge and forbids solicitation by obstructing a pedestrian or vehicle, near an automated teller machine or bus or train stop, and in exchange for a service.
Fines start at $250 and include possible jail time.
Police Chief Christopher Leusner
tells
The Press of Atlantic City beggars who are not threatening and comply with the ordinance will not be punished.
Source: Associated Press