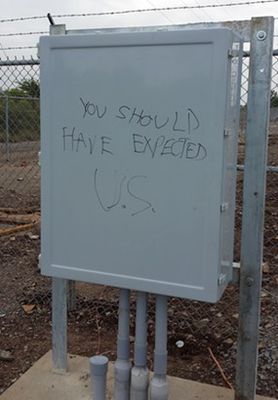 The federal authorities are investigating whether three recent attacks against the power grid in Arkansas are linked, and utility officials have asked residents to remain alert to the threat of more trouble.
The
Federal Bureau of Investigation
said that
two power poles in Lonoke County, just east of Little Rock, were deliberately severed early on Sunday. The authorities said that a stolen tractor, which had an extendable arm with a circular saw blade at its tip, was used to take down one of the poles.
The incident came more than six weeks after the F.B.I. opened an inquiry into a
report by Entergy Arkansas, a utility company, that one of its high-voltage transmission lines had been brought down in Lonoke County.
Investigators said someone had fastened a cable to the 100-foot transmission tower and laid it across a nearby railroad track in what the F.B.I. described as "an attempt to utilize a moving train to bring down the tower."
Investigators recovered the cable, which was a half-inch in diameter and attached to a 15-inch eye bolt, at the scene in Cabot, a city of about 24,000 people.
They are also investigating a Sept. 29 fire at an electrical substation in the county, where someone scrawled on a control panel: "You should have expected U.S."
No one was injured in the attacks, which all took place in the early morning, and only the one on Sunday resulted in a disruption of electrical service.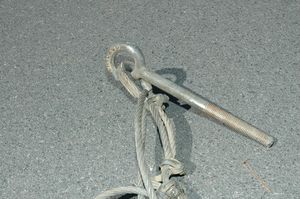 "We are the investigating the possibility that these three are connected,"
said Kimberly F. Brunell, a supervisory special agent and spokeswoman for the F.B.I.
Ms. Brunell declined to speculate on a motive for the attacks or possible suspects; the F.B.I. has said that whoever is responsible may have expertise in electricity. The bureau, which is being assisted by the federal Department of Energy in its investigation, has posted a $25,000 reward in the case.
Entergy Arkansas said it was cooperating with the F.B.I., and First Electric Cooperative, which was affected by one of the attacks, asked the public to assist in safeguarding its network.
"First Electric's system stretches across 17 counties and includes more than 10,000 miles of distribution line," Tonya Everhart, the utility's vice president for marketing and communications, said Tuesday in an e-mail. "We request the public's help in protecting it by reporting suspicious behavior near a substation, power lines or other equipment."