Former US West CEO Joseph Nacchio was released from prison last week after completing a four year insider trading sentence. He still claims the NSA framed him on the insider trading charges - after he refused to participate in their illegal phone surveillance program in 2001. US West was the only major telecommunication program that refused to spy on its customers. According to the
Wall Street Journal
, Nacchio feels vindicated by Edward Snowden's recent revelations about NSA spying on Americans' phone and email communications.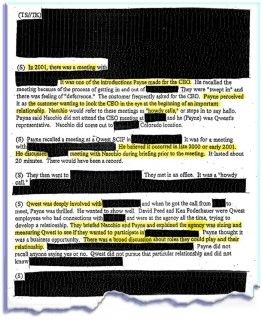 Nacchio was convicted of selling US West stock based on inside information about the company's deteriorating financial health. He denies this, claiming he believed US West's lucrative contracts with the federal government would continue.
Instead his refusal to cooperate with the NSA resulted in the wholesale cancellation of government contracts.
Nacchio had evidence supporting this claim. However the judge ruled it was classified and prevented his defense team from presenting it. The redacted NSA files were only made public after the former CEO was convicted and sentenced. However
Harper's
and others have always supported Nacchio's contention that he was prosecuted in retaliation for saying "no" to the NSA.
Whether or not Vlaccio is guilty of insider trading (all the legal arguments are summarized at
Race to the Bottom
), the most illuminating information in the redacted files is that the NSA was pressuring US West to spy on customers in
February 2001.
This was a good seven months before the 9-11 attacks, the supposed justification for curtailing Americans' civil liberties.