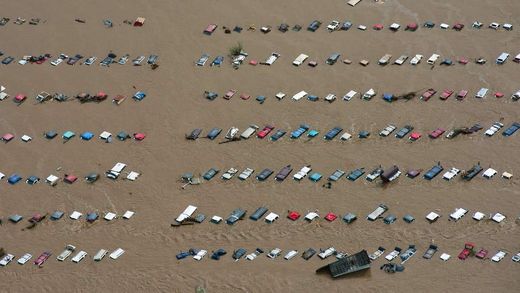 Rescuers will not return for families who refuse to evacuate immediately as more rain threatens to swell floods, officials warn.
Thousands of people trapped by floods that swept through towns in north Colorado have been warned to leave or risk weeks without food, electricity and running water.
Authorities have carried the message into canyon communities and towns where stranded residents eager to escape the Rocky Mountain foothills used every means possible to attract the attention of rescuers.
Boulder County Sheriff Joe Pelle warned National Guard helicopters and truck convoys would not go back for people who insisted on staying.
"We're not trying to force anyone from their home. We're not trying to be forceful, but we're trying to be very factual and definitive about the consequences of their decision, and we hope that they will come down," he said.
But not everybody is willing to go. Several families in the isolated community of Jamestown insisted they would stay to watch over their homes and farms.
Authorities fear a new wave of rain threatening flooded areas may hamper rescue and relief efforts.
Twenty military helicopters are available to expand the search from Boulder County east to Fort Morgan, but the window of opportunity for operations is closing.
"It will affect our air operations if it keeps raining," said Colorado National Guard Lieutenant James Goff.
"We'll look at ground operations or any other courses of action."
Four people have so far been confirmed dead and up to 500 more remain unaccounted for, as remote communities have had their lines of communication cut.
A fifth person missing presumed dead after witnesses saw floodwaters from the Big Thompson River destroy her home in the Cedar Cove area, Larimer County sheriff's spokesman John Schulz said.
Meanwhile, two fatalities were identified by the Boulder County coroner Saturday as Wesley Quinlan and Wiyanna Nelson, both 19.
Authorities believe the couple died when they were swept away after driving into floodwaters and then leaving their vehicle.
Police expect to find more bodies as they look for survivors.
National Guard Lieutenant Colonel Mitch Utterback said people had been desperately trying to attract the attention of rescue helicopters.
"People are signalling with lighters and pen lights and little flash lights and little pinch lights on the end of your key chain," he told reporters.
By late Saturday night, more than 1,750 people and 300 pets had been evacuated over two days, Utterback said.
In the last 24 hours the flood zone has grown to an area of 4,500 square miles (11,655km) stranding more families on isolated ranches.
Above the plains of Larimer County, rescue crews planned to fly as many missions as possible while skies were clear.
For those awaiting an airlift, Guardsmen dropped food, water and other supplies into the county's winding, narrow canyons.
Crews used inflatable boats to pick up families and pets from farmhouses and some evacuees on horseback had to be escorted to safe ground.
Although more troops have been deployed to search for residents there was concern more rain could hamper the rescue effort.
Meanwhile, President Barack Obama signed a disaster declaration and ordered federal aid for Colorado.