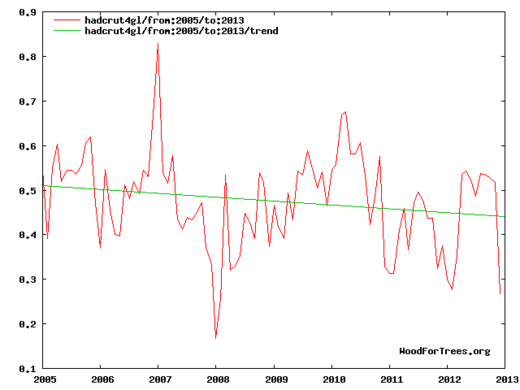 Lately we've been seeing and hearing lots media reports of cooling and cold weather extremes. Global temperature data, such as HadCrut 4, show warming has disappeared altogether.
Looking at the data for the last decade or so, one thing stands clear: Global temperatures have been showing many more signs of cooling than warming. Already we are sensing that global temperature has lost the battle to stay up. The HadCrut data series above shows that cooling has gained the upper hand. Indeed warming is now in the history books, having died some 15 years ago.
Forget the missing heat - the real story is the present cooling.
And a number of media outlets have kept up with this inconvenient development. Numerous reports have appeared lately, and they ought to serve as
a wake-up call to policymakers who have long been heavily intoxicated with the fantasy of a run-away warming planet.
There is a growing number of undeniable signs showing the planet is cooling:
The Arctic has seen a 60% gain in sea ice, the highest late summertime level since 2006. In fact, there hasn't been any warming in the Arctic in 8 years. The North Pole region has long been touted as the canary in the coal mine. Nowhere were temperatures supposed to rise faster than in the Artic. The fact that the Arctic is now cooling should be telling us something.
At the other end of the earth, Antarctic sea ice has been above normal for more than 700 consecutive days and this year it has been setting dozens of record highs for sea ice extent. With about another week left before the season peaks, the South Pole is poised to set an all time record high since satellite measurements began.
Central Europe has seen 5 consecutive colder-than-normal winters - a record. Worse, early forecasts for the 2013/14 winter show we may be looking at a spectacular 6 colder-than-normal winters in a row.
The online UK Express reports here that the globe is cooling, and so does the UK flagship newspaper Daily Mail in a detailed piece well worth reading.
The UK Telegraph also recently reported on a cooling planet, quoting climate scientist Professor Anastasios Tsonis of the University of Wisconsin: "We are already in a cooling trend, which I think will continue for the next 15 years at least. There is no doubt the warming of the 1980s and 1990s has stopped."
Finally, reader Ed Hoskins has been charting CET temperature data from the UK Met Office: "The overall annual temperature shows a diminution of pretty much a full degree Celsius over the last 13 years." Here's the chart: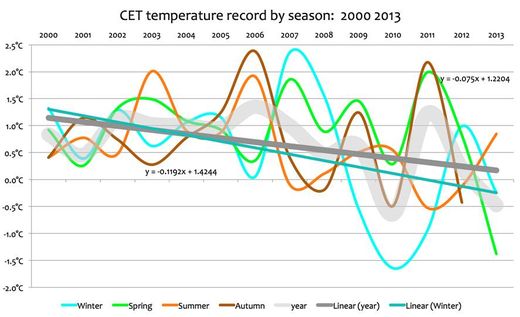 It turns out the alarmists are correct: Global warming can no longer be denied. That's because there is none left to deny!