Israel has blocked the international development organization Oxfam from bringing vital equipment into the Gaza Strip to help make drinking water safe.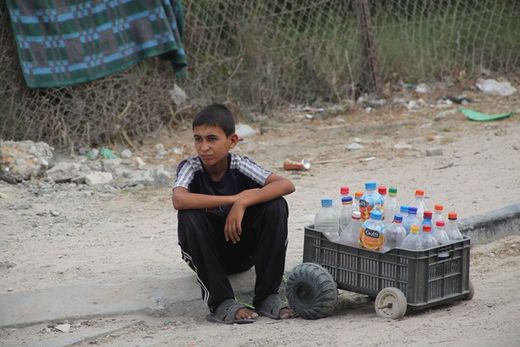 "The blockade on Gaza prevented Oxfam's public health programme bringing in a chlorometer to help get right chlorine levels to clean water," Ben Phillips, the organization's Campaigns and Policy Director tweeted from Gaza today.
More than 90 percent of Gaza's water supply is unfit for human consumption due to years of Israel's deliberate destruction of sewage and water infrastructure, its ban on imports of equipment and pollution and over-extraction of the only underground aquifer.
As a consequence waterborne illnesses are widespread.
Phillips said that Oxfam "made an application [to Israel] to import" the equipment, but "[A]fter 8 months without agreement we had to use less effective processes instead."
These apparently did not work. The equipment was to be shipped via Israel from a German manufacturer, Phillips added.
No water to wash your face
In addition to the poor quality of water, only a quarter of households receive running water every day, during several hours only.
The permanent electricity crisis means that water can frequently not be pumped and many Palestinian households must buy expensive bottled water.
"There is no water at all. I don't even find a drop to wash my face," Gaza student and writer Malaka Mohammed tweeted yesterday. "As a result [I] had to buy it!"
Life conditions for Gaza's almost 1.7 million residents have deteriorated sharply since the 3 July military coup in Egypt.
Since the coup, the Egyptian military regime has destroyed dozens of underground tunnels that have provided the only alternative route into Gaza for many basic supplies banned or severely restricted by the Israeli siege.