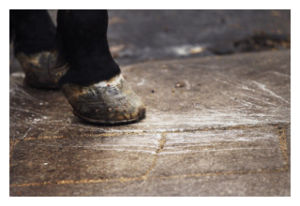 Miami Gardens - A grisly discovery was made Wednesday morning in Miami Gardens when the bloody body of a slaughtered and dismembered horse was found dumped in the city's warehouse district.
In the past, the bodies of slaughtered horses have been found in wooded areas, away from the public, but that wasn't the case Wednesday.
According to South Florida SPCA President Jeanette Jordan, it appeared the horse was slaughtered somewhere else and the remains were dumped at 5295 NW 163
rd
Street.
Laurie Waggoner, Director of Operations for the South Florida Society for the Prevention of Cruelty to Animals was called to the scene by the Miami Gardens Police Department.
"The slaughter of horses in our community continues unabated," stated Ms. Waggoner. "The only difference in this case, is the remains were disposed of in an extremely public area."
"The agony of this innocent creature must be underscored," said SFSPCA President, Jeanette Jordan. "This horse was slaughtered while still alive. My greatest hope is that the perpetrators of this hideous crime will be caught and prosecuted to the full extent of the law."
"Although South Florida SPCA is already home to 70 starved, abused and abandoned horses, we regret we arrived too late to save this one," stated Jordan.
The SFSPCA ranch has a special fund set up to help care for those starved, abused and abandoned horses. If you'd like to help, donations can be made at
www.helpthehorses.com
or sent to SFSPCA, 15476 NW 77 Court, #440, Miami Lakes, FL 33016.