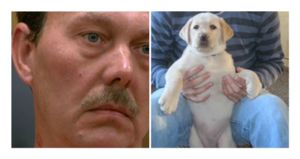 Stevenson, Washington - A father with children in the house who was preparing for "the Rapture" blew up his family's Labrador Retriever because the devil was inside the dog, court documents showed.
Christopher Dillingham,45, allegedly attached an explosive device to his dog and detonated it around 4 a.m. Sunday outside their home.
Skamania County Sheriff Dave Brown, who lives nearby, said the explosion woke him up.
"It sounded like a high-power rifle outside my window," he said.
A slew of 911 calls sent deputies to Dillingham's home. They found the remains of the dog strewn about the yard and arrested Dillingham on the spot.
Documents obtained by KOIN 6 News show Dillingham told Skamania County deputies "the world is going to end" because of a nuclear strike and he was preparing. Officers found a broken window and household belongings thrown outside when they arrived.
When they asked him why he was throwing items out of his house and onto his lawn, he said he believed "the souls of demons" were inside the metal objects in the house, the documents said.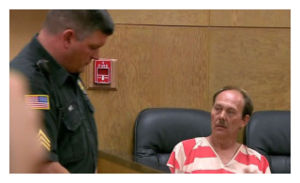 His ex-girlfriend, he told the deputies, gave him the dog, named Cabella, and "put the devil in it." He allegedly told the deputies he made the explosive device on his home work bench using black powder from fireworks.
He then allegedly strapped it around the dog's neck and fed the dog treats to keep it from trying to wriggle out of the bomb. He also allegedly told the deputies he stepped behind a wall before triggering the bomb because he did not want to get injured by flying debris.
The dog was decapitated.
The children were not hurt, court documents said.
Cabella was once owned by Sam Mims, but gave her up to his cousin - Dillingham's ex-girlfriend - because his new residence does not allow dogs.
Dillingham faces charges of second-degree malicious mischief, reckless endangerment and possession of explosive devices, but not animal cruelty. The prosecutor said that charge is used if the animal would have suffered, but the dog died instantly. He's being held on $500,000 bail.
Court records show Dillingham has an arrest history dating back to September 1993, when he was charged with unauthorized use of a vehicle, a felony, in Oregon's Hood River County. In 1998 he was arrested for drunken driving, and in 2007 and 2009 on assault charges in Washington.
The Bureau of Alcohol, Tobacco and Firearms, as well as the Metro Bomb Squad, was assisting in the investigation.