Nicolas Sarkozy comeback ambitions received a major boost as he was declared the most popular influential political figure in France by a key poll.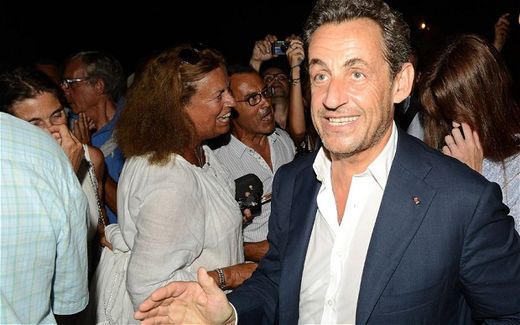 The Right-wing former president came 20th in Sunday newspaper
Le Journal du Dimanche
's bi-annual Top 50 poll, some 24 places ahead of François Hollande, the Socialist who roundly beat him last year but now faces record low popularity ratings.
The two men were the only politicians present in the list, dominated by music, film, TV and sports celebrities.
The poll came a day after Mr Sarkozy reportedly received a rock star's welcome when he turned up to a pop concert in St-Tropez with his wife Carla Bruni-Sarkozy, during which half the audience gave him a standing ovation.
The 58-year-old's ranking is the highest he has ever achieved, including in a poll taken in the "honeymoon period" shortly after his election for a five-year term in 2007.
It will further fire up his supporters, who are increasingly vocal in calling for his return to spare France five more years of Socialist rule in 2017.
"This is a surprise - a rupture with one of the laws of the Top 50 that suggests politicians don't do well as they divide people," said Frédéric Dabi of the IFOP polling institute.
Mr Sarkozy withdrew from political life after his defeat, embarking on a career as a keynote speaker at international conferences. But he made a spectacular, if brief, return last month to call on supporters to save his opposition UMP party from financial ruin after the country's highest legal body docked it 11 million euros (£9.5 million) in campaign expenses.
Within a month, the party had received nine million euros in donations.
"He is totally idolised by Right-wing sympathisers," said Mr Dabi of IFOP. "Given the state of the UMP, they believe only Sarkozy can save the party from stagnation."
Roger Karoutchi, a UMP senator and Sarkozy supporter, said: "Those who hoped to turn the page on 'Sarkozysm' are sorely mistaken." "The stronger the discredit of François Hollande, the more people feel cheated and the more that gives credit to Nicolas Sarkozy's record."
Mr Dabi questioned that analysis, suggesting the French are now more sympathetic to a politician who polarised France as never before precisely because they "no longer see him as a political figure".
"He no longer speaks in public and can be seen as outside the political sphere. He belongs to a sort of past. That maximises forms of nostalgia and affection."
Analysts point out that the same happened to Jacques Chirac, Mr Sarkozy's Gaullist predecessor, who within the space of a few months after stepping down went from being one of France's least admired politicians to its best-loved political figure.
Mr Sarkozy's strategy of keeping silent is clearly paying off but any full return to political life would be "extremely complicated," Mr Dabi warned.
"There is a kind of Americanisation of French politics," he said. "Before (François) Mitterrand and Chirac could try and return several times. Today in France, it's one strike and you're out."
Any comeback would also hinge on the outcome of a rash of legal cases threatening to taint Mr Sarkozy. These include allegations of illicit campaign financing of his 2007 campaign from L'Oreal heiress Liliane Bettencourt and the late Libyan dictator Muammar Gaddafi, as well as political rigging in an arbitration payout to a high-profile businessman. He has denied any wrongdoing.