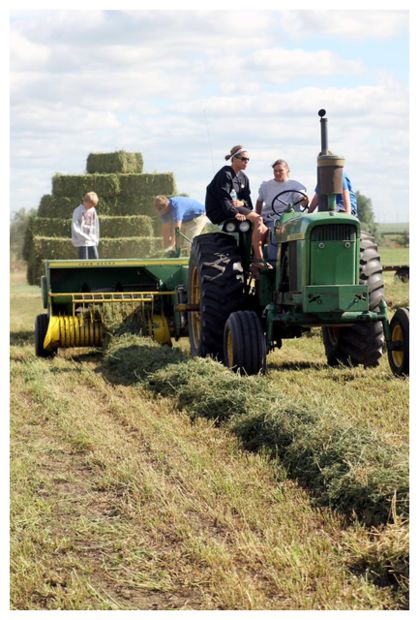 Sweatshirts aren't the usual attire for baling hay, but a cold snap made the job more pleasant last week as this group made a second cutting for Gary Gorter.
Weekend temperatures in Pipestone plummeted to lows not seen for 102 years as a cold air mass from northern Canada slipped down into the region.
Temperatures of 39 degree and 38 degrees were recorded in Pipestone on Saturday morning, July 27 and Sunday morning, July 28 respectively, according to Mike Gillispie, National Weather Service meteorologist out of Sioux Falls, S.D.
The lows broke the record of 42 degrees set in 1911.
"There are a few others in the upper 40s, but only two incidences down that cold," Gillispie said - - the 1911 record and then a 44-degree low recorded in 2005.
The cold air mass combined with light winds, clear skies and low humidity to allow the temperatures to plunge over the evening hours. The pattern isn't abnormal, Gillispie said, but it doesn't typically occur during the dog days of summer when high-pressure ridges generally extend all the way through the northern plains.
"When we're setting records that have been around for 100 years, it doesn't happen often," Gillispie said.
The NWS's latest 30-day weather model for August predicts the unseasonable cold won't last, with Pipestone straddling regions with forecasts of normal to above normal temperatures.
"Hopefully, summer's not done yet," Gillispie said.