An Asheville clinic that performs abortions had its license suspended Tuesday by the North Carolina Department of Health and Human Services.
DHHS says inspectors found nearly two-dozen health and safety violations at FEMCARE during a routine survey conducted July 18th and 19th
Some mountain representatives are questioning the timing of all of this. Just days ago, Governor Pat McCrory signed the abortion bill into law. The Department of Health and Human Services say it has nothing to do with recent legislation, but it has everything to do with Femcare violating more than 20 rules.
Here is the full release from DHHS
Raleigh, N.C. -- In response to inquiries, the Department of Health and Human Services confirmed today that it has suspended the license of a medical clinic in Asheville, N.C. which specializes in abortions. After a routine survey of FEMCARE, Inc., inspectors found egregious violations of existing rules that revealed an imminent threat to the health and safety of patients.

"Inspectors from Division of Health Service Regulation (DHSR) found the facility failed to comply with 23 separate rules," said Drexdal Pratt, Director of DHHS' Division of Health Service Regulation (DHSR). "We take rule violations very seriously and, when necessary, take firm action to prevent harm to patients and clients in the facilities that we license regulate and inspect." In addition to other findings, the survey found the facility:

- Failed to maintain anesthesia (nitrous oxide gas) delivery systems in good working condition, with torn masks and tubing held together with tape.This could lead to patients not receiving the intended dosage and risk patients not being fully sedated during surgical procedures, leading to pain and physical harm.

- Failed to ensure emergency equipment had weekly checks to ensure the equipment was suitable for use in patient care and failed to ensure that emergency medicine wasn't expired.

- Failed to have a resuscitator available.

- Failed to sweep and mop the operating room floor and failed to properly clean operating room beds.

- Failed to have a director of nursing responsible and accountable for all nursing services.

- Failed to have an agreement/contract with an anesthetist or anesthesiologist.

- Failed to have an agreement/contract with a registered pharmacist to assure appropriate methods, procedures and controls for obtaining, dispensing, and administering drugs.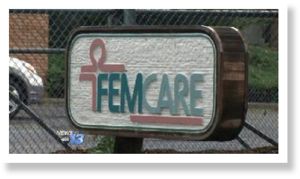 FEMCARE, Inc.'s last inspection was on January 16, 2007, a follow up inspection of a previous survey, which found the clinic in violation of personnel and quality assurance rules. The Division of Health Service Regulation is responsible for licensing, regulating and inspecting healthcare facilities, including hospitals, ambulatory surgical facilities, dialysis facilities, nursing homes and mental health facilities. The Acute Care Licensure Section has ten full time staff who survey hundreds of facilities across the state. The recently passed budget adds 10 full time employees to provide more frequent inspections of acute care facilities.
Click
here
for the entire Femcare survey.
Femcare Statement from Lorraine Cummings MD:
Since the State's last site visit in August 2006 there have been no changes in our operating protocols, but increasing regulations require us to make changes.

Standards that were acceptable when we were last inspected have changed and, as soon as we were notified of them two weeks ago, we began the process of meeting each one of them.

We have had no patient infections using our former protocols. We expect to be in compliance soon with the required standards and will return to serving our patients as soon as possible.