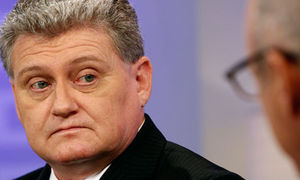 Lon Snowden says his son will be 'treated horribly' if he returns to US and in his place he would stay in Russia
The father of the whistleblower
Edward Snowden
has said the
FBI
tried to persuade him to fly to Moscow so that he could encourage his son to return to the
United States
.
"I said: 'I want to be able to speak with my son ... Can you set up communications?' and it was 'Well, we are not sure,'"
Lon Snowden told the Washington Post
. "I said: 'Wait a minute, folks, I'm not going to sit on the tarmac to be an emotional tool for you.'"
Snowden's father, who is retired from the
US Coast Guard
, also said he preferred Edward to remain in
Russia
, where he is stuck in the transit zone of Moscow's Sheremetyevo airport while
Russia
considers his request for temporary asylum.
"If he comes back to the United States, he is going to be treated horribly. He is going to be thrown into a hole. He is not going to be allowed to speak."
The 52-year-old said he had been as "surprised as the rest of America" when his son, who worked for a contractor, was revealed as the source of the leaks about surveillance by the
National Security Agency
to the
Guardian
. "As a father it pains me what he did," Snowden said. "I wish my son could simply have sat in Hawaii and taken the big paycheck, lived with his beautiful girlfriend and enjoyed paradise. But as an American citizen, I am absolutely thankful for what he did."
Lon Snowden said that two days after Edward was revealed as the whistleblower,
FBI
agents had arrived at his home outside Allentown, Pennsylvania. He had spoken to them for four hours and shared emails he had exchanged with his son. Later the FBI asked him to fly to Moscow. FBI officials declined to comment on why negotiations about the idea foundered, the
Post
said.
As to why Lon Snowden had not flown to Moscow himself, he said: "Sure, I could get on a flight tomorrow to Russia. I'm not sure if I could get access to Edward." He said he had communicated with his son through intermediaries.
In an interview with the state-owned
Rossiya 24
TV, the older Snowden, his words translated into Russian, said he had yet to decline the idea of travelling to Moscow at the FBI's request, but would first like to know what the agency wanted him to do. "If [Edward] wants to spend the rest of his life in Russia, I would agree. I am not against it. If I were in his place, I would stay in Russia, and I hope Russia will accept him."
He did not think his son would get a fair trial in the US. "I hope that he will return home and appear in court ... But I don't expect that ... a court would be fair. We cannot guarantee a fair court." He also thanked Vladimir Putin and his government for the "courage" they had shown in keeping his son safe. Lon Snowden also addressed his son, saying: "Your family is well and we love you. We hope you are healthy, we hope you are well, I hope to see you soon, but most of all I want you to be safe." He added: "I want you to find safe haven. I know the last 55 days have been very difficult."
Anatoly Kuchera, a Russian lawyer helping
Edward Snowden
, told the programme he thought the asylum request would be granted "in the coming days" and the US had not sent an official request for extradition. "Just saying 'hand him over' is absolutely dishonourable and incorrect," he said.