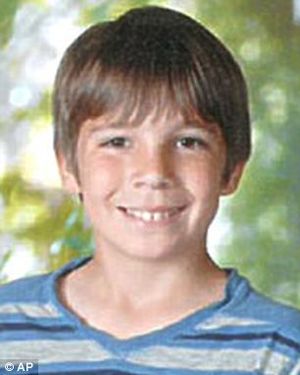 An 11 year old boy named Terry Smith Jr. disappeared from Menifee California on
Saturday July 6
th
2013. My family and I were involved in the search effort and my daughter is a classmate and acquaintance of the boy's older brother. I will share my observations of the events of this past week to the best of my ability in case you are unfamiliar with this story.
Terry, known as JuJu, lived with his mother Shawna Smith and her lesbian partner Denise, his 14 year old half-sister Mary Atilano and his 16 year old half-brother Skylar Atilano, in a small rural community about half-way between, and a bit east of, Los Angeles and San Diego. Once a small farming town from California's early days, Menifee has grown to approximately 80,000 residents in the last few decades and only recently incorporated as a city. Terry's home was located in area that has seen very little change during the development boom and is referred to as "Old Menifee". That area is known for having pockets of poverty, with drug use rampant among a certain percentage of the population that is made up of mostly "old time" families that have lived in the valley since well before the boom. Terry's home is located in one of those pockets just south of the center of "Old Menifee", the Menifee Market.
The community first became aware of Terry's disappearance on Sunday July 7
th
. The initial story circulating was that Terry's mother left for the evening at 7:30pm on Saturday to play on her pool league at a local bar and left 11 year Terry in bed, with his older brother Skylar looking after him. She returned late and did not check in on Terry until the next morning at 10:30 am when she realized he was missing. She notified police and news spread quickly in town that a small autistic boy had possibly wandered off and was lost in the rocky and desolate hills of Menifee in 100F temperatures wearing only basketball shorts and no shirt or shoes. Bloodhounds had traced his scent to the end of the dirt road near the family's home.
Here
is the Riverside County Sheriff's press release with a list of agencies that assisted in the effort.
By Monday afternoon, there were literally hundreds of local residents and residents of nearby communities out in the extreme heat searching a 55 mile radius around his home. A volunteer command center was set up at the Menifee Market, in sight of his home. Donations of food and water for the searchers from local business and residents were coming in by the truckload. His mother informed authorities that Terry Jr. was autistic and searchers were cautioned to approach the boy cautiously because he would not have been taking his regular medication. A monetary donation account had been set up at a local bank. Search coordinators were at the market directing groups and individual searchers on where to look based on tips coming in from callers to the tip line. A few tips and sightings came in. Searchers were out in cars, on horseback, in ATVs, on motorcycles and on foot. Riverside County Sheriff and Fire Department was also out in force with helicopters and on the ground. A Facebook page had been set up to coordinate the effort, now called 'Remembering Terry Smith'.
By this time, the local news stations were covering the story. It emerged that Skylar had left the home Saturday night and walked to a friend's house and that Terry had followed behind him. Skylar told the boy to go home and, even though he didn't want to, he turned and started walking back towards his home and was last seen walking down the dirt road back towards his house.
As the search effort and community prayer vigil continued around the clock, details of the family began to emerge. Terry's father,
Terry Smith
, a retired truck driver, began speaking to the media from his home in Virginia and countered his ex-wife's claim about him being autistic. Terry Sr. stated that his son had only recently been put on medication for ADHD. Terry's father also said that Terry had called him shortly before asking to come home to live with the him and his other siblings. Rumors began circulating regarding whether or not the family's property had been searched, a search warrant had been served, or if the FBI was involved.
Neither the mother nor the brother spoke to the media, although I believe at one point the little sister did. The mother was at the command center at times and the brother had requested help with finding his brother through his Facebook page. On the last evening of the search, Tuesday 9
th
July, he was at the command center with his friends making posters.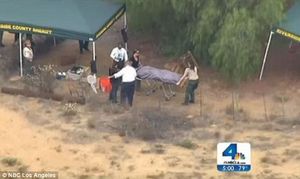 Sometime Tuesday afternoon, a post on the 'Remembering Terry Smith' Facebook page said that they were good on donations and asked not to bring any more food or water to the command center. They shortly after posted that the Riverside County Sheriff had announced that no one was to search after dark except by car. Speculation on the Facebook page was that they were bringing in infrared helicopters and the thousand plus searchers would get in the way. Many people were upset by that and refused to comply. At this point, Terry Jr. had been missing for 72 hours.
At some point, Mary, the 14 year old sister posted, on her Instagram page that her brother had been found and that he was in pieces. Wednesday morning 10
th
July the
announcement
came that remains had been found on the property and investigators were working to determine whether or not they were human or animal. Several press releases were scheduled and postponed throughout the day. At 4 pm Riverside County Sheriff
announced
that the body of Terry Smith Jr. had been found in a shallow grave on the family's property and that a 16 year relative was in custody and being charged with murder.
Once again the community came out en masse to the Menifee Market and the boy's home Wednesday evening for a prayer vigil. The mayor attended and gave a lengthy speech. A closed Facebook group named 'Skylar is Innocent' was created, as well as an open group named 'Justice for Terry!!!' A lot of anger and outrage was expressed about the situation on the internet, especially regarding how authorities handled the case and what was to happen with the monetary donations that had been made. A
petition
began to circulate on Facebook, calling for a 'Terry's Law' to allow law enforcement to search the home of any missing child without a search warrant.
In the morning of Thursday 11
th
July the father spoke with the media again in regards to the dynamics of the family and the situation. He also stated that he had been
advised
that if his son was not cremated then the service would have to be a closed casket. Rumors began to circulate about how the boy was eventually found, specifically that
a local psychic woman
had actually found him. KFI news radio in Los Angeles was able to get the intuitive, Pam Ragland, on the air by Thursday evening and she described her story in detail, much to their disbelief.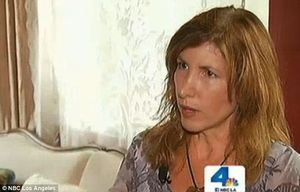 As the story goes, sometime in the evening hours on Tuesday night, Pam Ragland, after a series of visions and calling the tip line, put her two young children in her car and drove out from Orange County to look for the boy. An off-duty fireman drove her around the rocky rural roads of Menifee and eventually to the home of Terry Smith sometime around midnight. The family was home and sitting outside in the driveway of the two acre property. After some time the off-duty fireman was able to convince the family to allow them onto the property although they told him that the property had already been searched. They wandered around on the property in the dark until the 12 year old daughter of Pam Ragland came across what she thought was a dead animal, but was actually the top two or three inches of Terry Smith's head sticking out of the ground, already in a state of decomposition. She and her children were then interrogated by the police. Shortly after, Riverside County detective John Powers came on the KFI news show and confirmed that Pam Ragland's story was in fact correct. The radio show is
here
, with both Pam Ragland and John Powers speaking.
Skylar Atilano's
scheduled hearing
on Monday July 15
th
to determine whether or not he will be tried as an adult was
postponed
until September 17
th
. The judge, citing a previous history of "violent outbursts" and a violation of probation, in the meantime ordered Atilano sent to the juvenile wing of the Southwest Detention Center in Murrieta.
Ultimately, two young lives were lost here and an entire community was forced to take off their rose-colored glasses. As this story unfolds I am sure that new light will be shed on its ugliness. My personal account of this past week may not be as objective as it could be, as I admit to experiencing feelings of strong panic and deep sorrow over this situation. Sometimes it is difficult for me to look upon the ugliness of this world, especially if it is within near proximity to my own family. I feel that there is much strangeness to this story and I am left with many questions about how something like this could happen to two young lives. I am also seeking a level of understanding of how it was possible for a woman and her daughter over 60 miles away to find what the authorities from many local agencies, the FBI, over a thousand people searching and three days of prayer vigil mere yards away, could not find.