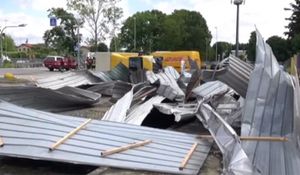 A tornado struck in northeastern Milan, Italy, on Wednesday, and you don't need a translator to understand the reactions of those who captured the amateur footage posted above, while riding in a vehicle alongside the twister.
The dramatic mobile phone footage shows the funnel of the tornado tearing through an industrial area in Cavenago, around 27km from Milan on Wednesday morning
The video shot from the nearby A4 highway shows the swirling mass of air filling with debris.
"It's destroying all the roofs," a man off camera says.
"No it's not possible... this is really crazy... I've never seen anything like this."
The tornado generated winds of up to 100km/h and caused extensive damage throughout the Brianza region.
A man driving a truck on the A4 was reportedly injured by flying debris and a fifty-year-old man was hit by a gate he was trying to close when the tornado struck.
A local farmer told Il Giorno the vortex covered an area around 150m when it suddenly arrived.
Large parts of Brianza are now littered with the debris from roofs, fences and trees.