USGS specialist: 'The reefs are dying'
Lihu'e - The outbreak of deadly coral disease along Kaua'i's North Shore may be targeting more than one species of
Montipora
coral
The spread of the disease was described as an "epidemic"
in a November 2012 report by the U.S. Geological Survey
Until recently, the cyanobacterial disease was thought to be exclusive to the common rice coral. But after returning to Kaua'i this week, Dr. Thierry Work, head of infectious disease for USGS, said the blue rice coral species is also in trouble.
"The blue rice coral definitely has lesions on it," he said. "Of course, we'll have to do the analysis to see if it's the same (disease)."
He said the lesions look similar to what he saw at 'Anini and Tunnels beaches.
Work spent Monday and Tuesday diving at several locations along Kauai's North Shore, including reefs near Ha'ena, Wainiha and Waipa. He collected 30 coral tissue samples, which he took back to the lab in Honolulu for DNA testing.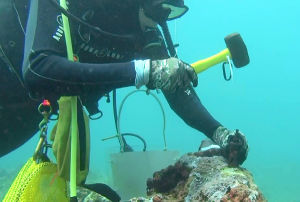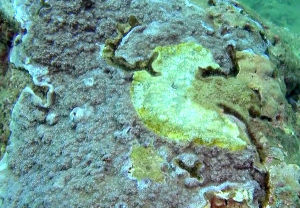 "It's another piece of information that we can add to the pile to document what is going on with these reefs," Work said.
Accompanying Work during his dives were Don Heacock, Kaua'i district aquatic biologist for the Department of Land and Natural Resources' Division of Aquatic Resources, and Hanalei-based diver and biologist Terry Lilley, who has been tracking the disease with underwater video ever since discovering the outbreak more than a year ago.
"We saw thousands of diseased corals in the last two days," Lilley said.
Lilley believes the situation facing Kaua'i's reefs has reached a new level of urgency now that the disease has "jumped species" to the blue rice coral, one of 66 coral species theNational Oceanic and Atmospheric Administration is proposing to list under the Endangered Species Act
.
"I'm expecting a heck of a lot of government interest moving forward," he said.
This disease - which consists of three different bacteria working together - is the first Heacock has seen in his 31 years as an aquatic biologist. Most puzzling, he said, is that it is being found in areas with strong currents, a lot of water movement and low pollution levels.
"It's not the kind of place you would expect to see an organism, like coral, to be diseased," he said.
One thing all three researchers agree on is that something is causing significant amounts of stress and rapidly killing corals in Kaua'i's coastal waters.
"It's a complex thing, and I'm not really sure what's causing it," Work said.
Lilley said he has documented a large amount of disease in areas surrounding underwater lava tubes, where fresh water flows out onto the reefs.
"This is giving us a little bit of a clue that this stuff may be caused due to runoff," he said.
While Lilley believes the origin is likely land-based, Heacock is less convinced.
"If that was the case, we would probably see these diseases in places like Nawiliwili Bay," he said. "It appears we're not seeing these diseased corals adjacent to where there's most likely a pollutant coming off the land. That's what's puzzling."
Whatever the source - land or ocean - Heacock said it is a question that must be answered, as corals are "the canary in the proverbial coal mine."
"We're dealing with a fragile ecosystem," he said.
Of all the sites he visited Monday and Tuesday, Work said Waipa, on the east side of Hanalei Bay, is most affected by the disease. The area is littered with the white skeletons of dead coral colonies.
"Waipa looks really bad," he said. "That reef is hurting."
Work fears Waipa is following in the footsteps of 'Anini reef, one of the main sites he and Dr. Greta Aeby, a coral expert with the Hawai'i Institute of Marine Biology at the University of Hawai'i, have been studying since September. In November, Work described the amount of sediment in the water there as "horrible."
"I wouldn't be surprised if (Waipa) starts looking like 'Anini in a few months," he said Tuesday.
Work said Kaua'i's reefs are trying to tell us something and that the community should be listening. While not much can be done locally to reduce rising sea levels and global warming, he said Kaua'i can address local problems, including land-based pollution and overfishing.
"It is really up to the community to decide what they want the reefs to look like," he said. "They don't need to be reef ecologists to see that the reefs are dying."
Work added that the Hawaiian Islands cannot afford to make the same mistakes as in the Caribbean, where he said 80 percent of the coral cover has been lost.
Heacock said the only way to protect our ocean resources is for the community and government agencies to work together.
"Things have to change," he said. "They have to."
Work said it will take several weeks to analyze the tissue samples collected earlier this week. The results will be released in a diagnostic report once he is finished.
On April 29, a team of scientists from NOAA - led by coral disease specialist Bernardo Vargas-Angel - will fly to Kaua'i to begin augmenting efforts started last year by USGS and UH.
"I just got notice our plan was a go a few days ago," Vargas-Angel said Thursday, adding that the team will be on island for up to a week to collect data and conduct prevalence surveys around the island.