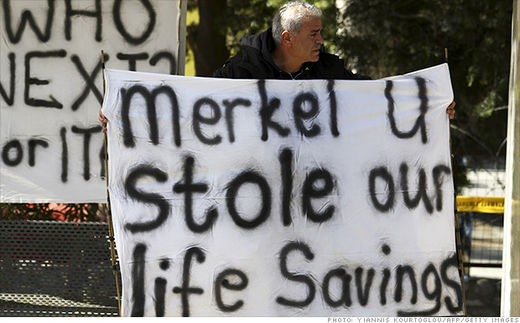 Russians are preparing to withdraw billions of euros from Cyprus and the island will plunge into a recession lasting for decades due to the onerous terms of a EU bailout, economists warned on Monday.
"The Russians are already indicating they want to withdraw their money. Why should they stay? They will go somewhere where they can be protected; we can't protect them," economist Simeon Matsi told AFP.
"We have indications that billions (of euros) will be withdrawn, we already know of about three billion that is ready to move. They are already asking lawyers to draw up documents to withdraw money."
As a condition for a desperately-needed 10-billion-euro ($13 billion) bailout for Cyprus, fellow eurozone countries and international creditors Saturday imposed a levy on all deposits in the island's banks.
Deposits of more than 100,000 euros will be hit with a 9.9 percent charge, while under that threshold the levy drops to 6.75 percent.
The controversial tax is seen hitting Russian pockets hard, with experts estimating that Russian deposits in Cypriot banks amount to at least 15.4 billion euros ($20 billion) of the estimated 67 billion euros of deposits held by Cyprus banks.
Russian President Vladimir Putin on Monday criticised the proposed tax, describing it, according to a Kremlin spokesman, as "unfair, unprofessional and dangerous".
Russian Prime Minister Dmitry Medvedev was equally forthright.
"We should say this directly:
this simply looks like the confiscation of other people's money
," Russian news agencies quoted him as saying. "I do not know who the author of this idea is, but this is what it looks like."
Economist Matsi predicted that Cyprus banks which were scheduled to reopen on Tuesday after a three-day weekend, would remain closed for a time to prevent a rush on accounts.
"The deal by the eurogroup dealt a very heavy blow to Cyprus - it was the death knell for the financial sector," he said.
Economist Castas Apostolides said the Cypriot government went unprepared into negotiations with the eurogroup.
"We should have called Europe's bluff," he said.
"A bank haircut on deposits is unacceptable; they should have walked out because without a business sector there is no Cyprus economy," Apostolides said.
"Cyprus will be unable to exit recession for the next 20 years. Our children will pay for this mistake."
An analysis by IHS Global Insight said there was a "potential for contagion from the move to impact bank sectors in other troubled economies on the periphery of the eurozone."
"A mass of withdrawals from eurozone periphery banks could heat up the debt crisis once again after the international financial community had decided that lending to countries such as Spain and Italy would not require the extremely high risk premia it had earlier demanded," it said.
"The financial markets' immediate bad reaction to the part funding of the Cypriot rescue by taxing bank depositors has highlighted the concerns that it could be opening a nasty can of worms."
UBS Investment Bank managing director Reinhard Cluse said the deal "raises the obvious question whether the depositor bail-in in Cyprus is a 'one-off' or whether it will eventually be repeated elsewhere in the future".
In our view, the immediate implication for other periphery countries might be limited, but we see a substantial risk that depositors will behave a lot more nervously elsewhere in the future," he said.
Jennifer McKeown, a senior economist with Capital Economics, said that eurozone depositors may not be convinced that the Cyprus action will be a one-off measure.
"And even if Cyprus is a special case, the key point is that depositors elsewhere might not be willing to take the chance. ... and if the authorities are unwilling to save an economy as small as Cyprus ... will they really save the others?" she asked.