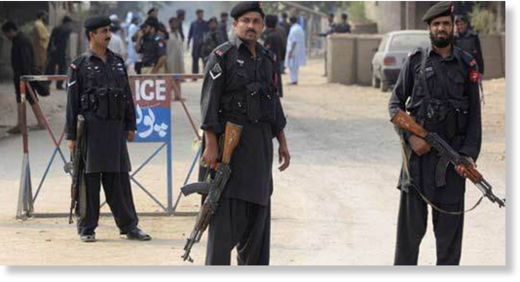 At least three persons were killed when two suicide bombers attacked within the premises of the judicial complex in Peshawar on Monday.
Two attackers tried to enter the Judicial complex premises from the Jail road entrance where they were stopped by security.
One of the attackers was shot dead by security forces after he had hurled a hand grenade.
Bomb Disposal Squad (BDS) personnel defused the explosive vest on the attacker.
The other attacker blew himself inside the complex.
At least 30 people, including three policemen and a woman judge were injured in the attack.
The injured were shifted to the nearby Lady reading Hospital where the condition of three victims was reported as critical.
Provincial Information Minister told a local news channel that at least two persons had died and thirty others were injures in the suicide 'terrorist' attack which according to him was aimed at disrupting the upcoming elections.
Security forces cordoned off and conducted a search operation in the area.