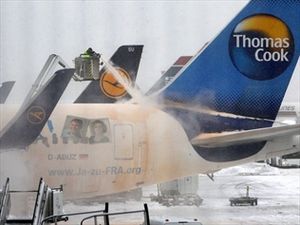 Icy roads are disrupting transport as north-western Europe remains in the grip of unseasonable weather.
The snowstorm on Monday and Tuesday, a few days before the official start of spring on March 20, caused widespread travel chaos with the cancellation of hundreds of flights and the suspension of train services including cross-Channel Eurostar trains.
The Eurostar link between London and Paris, the Thalys line between Paris and Brussels and other high-speed connections in northern France resumed running early on Wednesday, though there were delays.
After being forced to close briefly, Frankfurt Airport, Europe's third-busiest, said it expected services to progressively return to normal after 812 flights were cancelled on Tuesday.
France was the worst affected by the snowstorm but Belgium, Britain, Germany and the Netherlands also reported major disruptions.
Services were returning to normal in France, with the Paris Metro and suburban train services running, though buses were cancelled because of icy road conditions.
The sun was shining in Paris, where buildings were covered in a picturesque blanket of snow and a lone cross-country skier was seen on the Champ de Mars near the Eiffel Tower. The temperature was -5 degrees Celsius, well below seasonal averages.
The icy conditions were causing road closures and slowdowns, in particular in the north of France, but highways were gradually opening as snowdrifts were cleared and vehicles stranded during the snowstorm were recovered.
Prime Minister Jean-Marc Ayrault warned disruptions could continue for another 48 hours.
"I think that things should be better by Friday, at least on the weather front," he said.
"The situation is under control, the organisation is at the necessary level."
About 69,000 homes were without power in France on Wednesday, including about 30,000 that lost electricity after the snowstorm moved south into the Alps.
Temperatures hovered close to freezing in Britain, with snow expected in parts of Scotland and eastern England. Motorways in the south of the country were blocked as lorries were backed up following delays to freight and passenger services through the Channel Tunnel.
Belgium was also seeing a return to normal with train and public transport services improving, though icy roads were causing some disruptions.