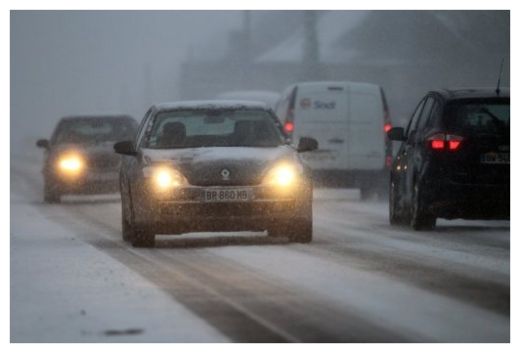 More than 68,000 homes were without electricity in France and hundreds of people were trapped in their cars after a winter storm hit with heavy snow, officials and weather services said.
An accident near the northern city of Lille involving three cars that skidded in icy conditions on a motorway left 14 people injured, including six firefighters.
Twenty-six regions in northwest and northern France were put on orange alert because of heavy snowfalls, which Meteo France said were "remarkable for the season because of the expected quantity and length of time".
Conditions were forecast to improve early Wednesday.
Overnight Monday nearly 500 cars were blocked near Cherbourg where snowdrifts piled up 60 centimetres (almost two feet) as winds reached 100 kilometres (more than 60 miles) an hour.
More than 68,000 homes were without electricity in Normandy and Britanny at some point, but the ERDF utility said their numbers were down to 500 on Monday night.
Because of the severe weather civil aviation officials asked airlines to cancel up to 25 percent of flights from Roissy and Orly airports in Paris.
Snow also delayed trains on the Paris-Cherbourg line as well as TGV high-speed trains.
In Cherbourg, a ferry carrying 491 passengers from Ireland aborted its approach late Monday because of heavy seas and was expected to make another attempt early Tuesday.
Source: Agence France-Presse