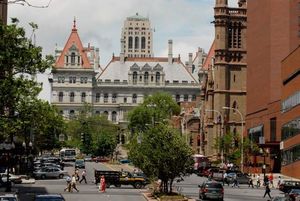 The state Board of Elections had one investigator to handle any abuse of campaign finance or election law. The investigator retired last year, and now there is none.
Board of Elections spokesman John Conklin confirmed today that the state hasn't allowed the department to hire a new investigator to uphold election law. At one point, the board had six investigators.
"We have not been allowed to hire anybody new," Conklin said. "If we need to have an investigation done, we would call upon State Police."
Conklin said the agency still has six auditors to review how campaign finance money is collected and spent. But the investigator would work with local prosecutors and law enforcement to address any election-law violations.
Barbara Bartoletti, the legislative director for the state League of Women Voters, ripped the lack of an investigator at the Board of Elections at a news conference this morning on campaign-finance reform.
"It is kind of like the wild, wild west as far as campaign contribution enforcement and oversight," Bartoletti said.