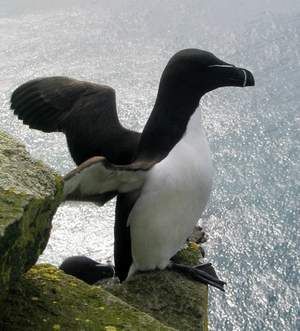 They typically winter no farther south than New Jersey. Maybe Hurricane Sandy steered them off course or disrupted their usual diet of schooling fish.
Biologists aren't sure why these penguin-like birds, called razorbills, have flocked to the Space Coast and beyond, way farther south than normal.
The black birds with white underbellies have flapped their way to Kennedy Space Center, where Audubon members spotted several during their annual Christmas Bird Count.
"Everybody's talking about it," said Ned Steel, who coordinated the Audubon count on Merritt Island, which includes the security area of the space center.
Before this year, there had been only 17 sightings of razorbills reported to Florida's bird surveillance program. Those were typically one or just a few birds.
This winter, about 100 razorbills have been spotted off Miami. They've also been seen from Naples to Pensacola on Florida's Gulf Coast.
A few perished along the way. The state's Fish and Wildlife Research Institute in St. Petersburg recently received eight razorbill carcasses. The two juvenile birds examined so far had no food in their stomachs, said the institute's spokeswoman Wendy Quigley.
"It basically looks like those particular ones could not handle the stress of the situation," she said.