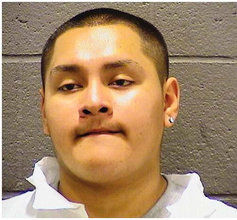 A man was shot and killed Friday night after giving three young people a ride to a northern Durham neighborhood.
Investigators say Johnny Danilo Villatoro, 35, of Durham, was the victim of a carjacking and the fatal shooting.
Police have charged three youths, including two juveniles with murder.
One of them is a 12-year-old girl from Raleigh who accidentally shot herself in the leg and abdomen while inside the Villatoro's car, police said.
Investigators found her at about 7:30 p.m. on Channing Court. She is being treated at a local hospital for injuries that do not appear to be life threatening.
Two teens, Justino Navarette Maya, 16, of 311 S. LaSalle St. and a 14-year-old girl from Raleigh have also been charged.
Police took Maya to the Durham County jail where he is being held without bail. The 14--year-old girl was arrested Saturday morning and has been placed in a Wake County juvenile facility, police reported.
Investigators have not yet said who fired the shots that ended Villatoro's life.
The homicide occurred Friday night on Firth Street, but investigators say the teens first encountered Villatoro shortly after 7 p.m. on Avondale Drive, where they asked him for a ride.
Once Villatoro had driven the teens to Firth Street, investigators say they carjacked his sports utility vehicle and shot him, police spokeswoman Kammie Michael said.
Police found Villatoro's stolen SUV abandoned behind an apartment building on Channing Court
Investigators do not think that Villatoro knew the teens, Michael said
Police are asking anyone with further information to call Investigator S.M. Pate at 919-560-4440, ext. 29332 or CrimeStoppers at 919-683-1200. CrimeStoppers pays cash rewards for information leading to arrests in felony cases and callers never have to identify themselves.