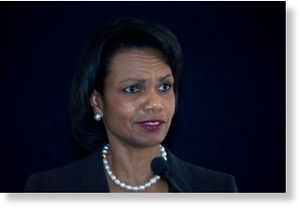 Protesters from Code Pink wanted to make citizen's arrest for war crimes
Tampa, Florida - Police in Tampa stopped a dozen anti-war protesters from entering an event attended by former Secretary of State Condoleezza Rice after the group said it intended to arrest her for war crimes.
The protesters from Code Pink carried handcuffs Tuesday and tried to enter a performing arts center. Rice was attending an event in conjunction with the Republican National Convention. They said they wanted to make a citizen's arrest of Rice, who was Secretary of State when the Iraq War started.
The officers told the protesters to leave because they were on private property. They went back to the sidewalk and several lay down under sheets made to look like they were blood-splattered.
The group says it will try to arrest other members of the George W. Bush administration.
Meanwhile, Mitt Romney officially clinched the GOP presidential nomination on Tuesday to move a step closer in his five-year quest for the White House.
With Hurricane Isaac churning toward landfall in Louisiana, Republican officials appeared determined to stick to a tightened three-day schedule that kicked into full gear on Tuesday with official business and speeches accusing Obama of failed leadership and undermining the American dream.

Source:The Associated Press