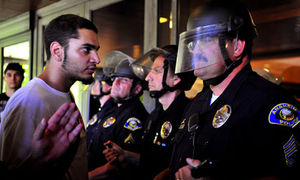 Officials in Anaheim, the southern California home to Disneyland, are scrambling to contain public anger over a rash of police shootings of young Latino men and pleaded for calm following a fourth night of street demonstrations marred by vandalism and looting.
Members of a 1,000-strong crowd broke windows and set fire to garbage skips in downtown Anaheim on Tuesday night, leading to hours of clashes with police, who responded with pepper spray and rubber bullets and made at least 24 arrests. The demonstrators said they were expressing frustration at what is widely seen as indifference by the city's all-white leadership to the majority Latino population.
The immediate catalyst for the protests was the death of 25-year-old Manuel Diaz on Saturday afternoon. According to media reports, he was shot twice by police in a residential neighborhood - the first time in the leg and then, once he was on the ground, in the head. He was apparently unarmed.
The Anaheim police had already been the target of weekly protests by bereaved relatives of earlier shootings victims, who have accused them in court filings of operating "like a death squad" and taking aim more or less at random at anyone they suspected of belonging to a street gang. When a second man was shot dead on Sunday, public anger grew only stronger.
Diaz's family has filed a wrongful death suit against the city, denouncing what the suit called "excessive, unjustifiable and unreasonable force". Diaz's mother, Genevieve Huizar, echoed public appeals for calm, saying she wanted only justice.
"Let's be peaceful. Peaceful demonstrations for everyone," she said at an emotional news conference at the Orange County courthouse in nearby Santa Ana. Shortly afterwards, she broke down wailing in a corridor, with television cameras still rolling.
Huizar's lawyer, Dana Douglas, said she did not support the vandalism at Tuesday night's demonstration either, but commented: "The police are arresting people who threw rocks and bottles, but not the officers who killed Manuel Diaz. That's not justice."
The police shootings and the demonstrations have only exacerbated deep divisions in Anaheim. The city's western half is poor, predominantly Latino, smoggy, economically depressed and so riddled with crime and street violence that many people say they are afraid to leave their homes. But the eastern half - the Anaheim Hills - is affluent, conservative and predominantly white.
Many of those affluent residents were quick to condemn the vandalism yesterday, and to support the police, saying they have a tough job policing the gangs and should be thanked, not criticized, for the way they do it.
Latino leaders, however, along with civil rights lawyers and police watchdog bodies, accuse the police of being too quick to pull their weapons when encountering perceived threats, but doing nowhere near enough to respond to complaints in the community of slow response times to crimes.
At one startling moment during a demonstration on Sunday, police lost control of a dog which ran towards mourners and protesters at the scene of Diaz's death and began biting people at random. The episode was captured on video and was widely shown on local television.
Tom Tait, Anaheim's mayor, sought to forge a middle ground yesterday, promising transparency in the investigation of Diaz's death but also urging calm among the protesters. "The first step is to get to the truth," he said at a news conference at police headquarters. "That takes some time and patience, and that's what I'm asking for."
He has called in the state attorney general and the FBI to investigate Diaz's death and the legality of the police's actions. At the same time, he cautioned, acts of violence or vandalism would "simply not be tolerated".
Many Latinos appeared to sympathize. Yolanda Delgado, a longtime local activist, chased one of the window-smashers down a street and wrestled her to the ground. She later told a local radio reporter that justice needed to be sought through the courts, not by behaving "like animals".
Anaheim has a long history of tension between its white elite and its Latino population, including a riot in 1978 and the introduction of some of the toughest anti-immigration measures in the country - including a stipulation, starting in the 1990s, that all inmates of the county jail be screened by immigration officials to check their legal status.
Many Latinos complain that their political leaders are out of touch and cannot understand their day-to-day problems. All but one of the city's five council members lives in the Hills, and none of them is Latino. In fact, in the city's 142-year history, only three Latinos have ever served on the city council - a by-product of the "at large" voting system which removes the obligation to hold local council seat elections district by district.
"A feeling of disenfranchisement pervades the Flatlands area of the city," said Bardis Vakili, a lawyer with the American Civil Liberties Union, which is suing Anaheim for violating the civil rights of its Latino population through its voting system.
Holding "at large" elections is a time-honored method of disenfranchising minorities, Vakili argued, pointing to multiple examples in the segregation-era deep south.
The problems with the police are symptomatic of the broader political problem, he said. At least five people have been shot dead by police in each of the past three years. "To the extent that the community fears the police," he said, the police is not doing its job. The feeling in the community is that enough is enough."