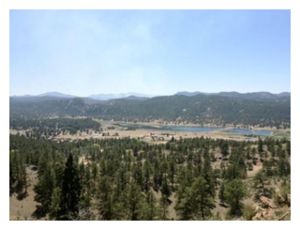 An apparent meteor grounded heavy air tankers fighting the Springer fire near Lake George for nearly two hours Wednesday afternoon, leaving firefighters without air support.
But the fiery phenomenon left people from as far away as New Mexico in awe.
The planes were near Lake George when a pilot noticed debris falling from the sky, said Ron Roth, spokesman for the Rocky Mountain Area Coordination Center. The pilots were not sure whether it was "space junk" or a meteor, Roth said.
"We're just glad it quit," Roth said. "A rather odd phenomenon."
Several other reports pointed to a rare, once-in-a-lifetime sighting.
Six reports of a meteor - seen from Winter Park, Colorado Springs and Raton, N.M. - were received by Chris Peterson, a research assistant with the Denver Museum of Nature and Science. The American Meteor Society received seven separate reports, mostly from Colorado Springs.
"These things happen all the time, but usually they just aren't seen during the day," Peterson said.
It likely wasn't one of the more than 22,000 pieces of "space junk" floating around the earth.
Officials at the North American Aerospace Defense Command, which tracks man-made objects that threaten North America, did not report any scheduled entries or objects over North America, said Lt. Col. Mike Humphreys, a spokesman.
The Joint Space Operations Center with U.S. Strategic Command did not track any man-made objects over Colorado, said Rodney Ellison, a spokesman for the agency.
Relying only on witness reports - Peterson turns off his skyward cameras during the day - Peterson estimated the meteor likely screamed across the atmosphere somewhere above Limon.
It could be seen for about three seconds, Peterson said, as it likely hurled anywhere from seven to 44 miles per second as it fell toward earth. Since it was visible during the day, the meteor likely was at least the size of a softball.
Where it landed - or if it even reached the ground - remained anyone's guess Wednesday afternoon as the fire-fighting air tankers returned to the sky.
Greg Heule, a spokesman for crews fighting the Springer fire near Lake George, said the tankers were struck by debris in the air.
Peterson, though, said he couldn't recall a plane ever being hit by a meteor.
"I would say it's really, really unlikely," Peterson said. "It's more likely that the plane was hit by flying pine cone ashes than a meteor."
"Realistically, there's an awful lot of earth and not a lot of rocks falling from the sky."
A good indication that a meteor fell nearby is the sonic boom that usually happens when a meteor falls to within 30 miles of the ground. At that point, the atmosphere is dense enough to cause the sound, as well as to make the meteor fall vertically.
Though the fireball may have seemed close, don't bet on finding any pieces of space rock anytime soon, Peterson said.
"It easily could have burned up," he said.