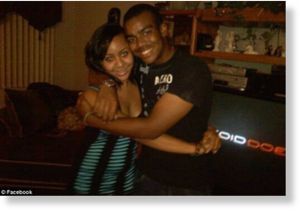 A 55-year-old woman shot dead her husband and teenage daughter and stayed at home with their bodies for three days, according to police.
Regina Johnson, from San Diego, has been charged with two counts of first-degree murder after the bodies of her husband Reuben, 56, and daughter Aaliyah,14, were discovered on Saturday.
Police believe they had been shot on Wednesday and were lying in the home ever since. They have not yet established a motive.
Reuben Johnson's sister Deborah Spinner told
10News.com
: 'It's like we can't wake up from this nightmare. There are so many questions. Why, why would you do this to Aaliyah? She was a child.'
Neighbors described the family as quiet and said the daughter and her father seemed quite close
Reuben Johnson served in the Navy for 20 years, before retiring in 2009 as a chief petty officer. He had been working as a security guard ever since.
He was a Green Bay fan and would often be seen in packers clothes.
His sister said that Aaliyah was a cheerleader and child model.
'She was a beautiful girl, inside and out,' she said of her niece.
The family-of-three had rented a second-floor condominium at the Lomas del Cerro complex on Navajo Road, near Jackson Drive, for more than a year, police said.
San Diego police Lt Kevin Rooney told News10: 'It's our belief that the victims were killed sometime on Wednesday morning and the suspect remained in the (home) the entire time.'
10News learned Regina Johnson had recently been laid off from her job at a financial services company.
Yesterday, almost 200 students and families gathered to remember the slain pair, releasing balloons in the air with goodbye messages.
Friend of Aaliyah's Tyffanie Covey said: 'I never would have guessed that anything would happen to her.
'Her mom used to be so sweet. We would always talk and then her dad always made me laugh. They were a really close family. I'm shocked she would do this.'
Her friends gathered for a group photo near the school sign which was covered with purple balloons, stuffed animals and flowers with a message saying: 'We love you, Aaliyah!'