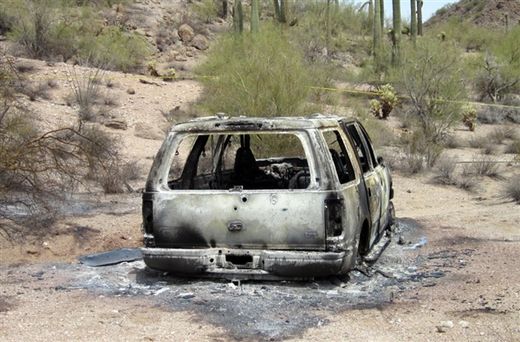 Five bodies burned beyond recognition in a charred vehicle discovered in the southern Arizona desert appear to be victims of drug-smuggling violence, Pinal County Sheriff Paul Babeu said Saturday.
Deputies are searching for suspects in the killings just west of Casa Grande, in desolate Vekol Valley between Phoenix and Tucson, NBC Station KVOA of Tucson reported.
Around 4:30 a.m. Saturday, a border patrol agent saw a Ford Expedition pulled over on Interstate 8, Babeu said. The vehicle had gone airborne off the interstate, he said. When the agent approached the SUV, the driver took off.
The smoldering Expedition was found about 8:30 a.m. Four bodies were found in the cargo area and one was in the backseat, Babeu said. None were in the driver or passenger seats, he said.
He said evidence pointed to drug smuggling, but he did not specify what the evidence was.
"This is pretty significant," he said. "Given all these indicators, you don't have to be a homicide detective to add up all this information."
Pinal County deputies were involved in more than 350 high-speed pursuits last year, and Babeu said most of those involved cartel members. There have been shootings, the bodies of murder victims have been left in the desert and just this week, several loads of drugs were confiscated, he said.
"This happens far too often and usually our involvement is just a small percentage of what really goes on," the sheriff said. "Is it concerning? Is it troubling? Yes it is."
Babeu said investigators will try to determine whether the victims were dead before the SUV was set ablaze or whether they were alive when the fire was started.
"Clearly these people were murdered, but we don't know the manner of death," he said.
He said killings related to Mexican drug cartels are rare so close to Phoenix,
The Arizona Republic
newspaper reported.
The Associated Press contributed to this report.