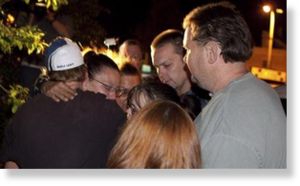 Canada, Toronto - A Canadian man was found guilty of the murder, assault and kidnapping of an 8-year-old girl on Friday, after a gruesome two-month court case that horrified the country.
A jury in London, Ontario, found Michael Rafferty, 31, guilty of first degree murder, kidnapping and sexual assault, dismissing his girlfriend's testimony that she alone was responsible for killing Tori Stafford.
"We got him. We got justice," Tori's father Rodney Stafford told reporters outside the courtroom, showing the waiting TV cameras a picture of Tori. "It was for every little girl in Canada. Nobody deserves what happened to her."
In graphic testimony during the trial, Terri-Lynne McClintic admitted she had kidnapped Tori from outside her school in April, 2009 and delivered her to Rafferty, who raped the child.
McClintic, who had already pleaded guilty to murder, said she then battered the girl to death with a claw hammer, a version of events that the jury dismissed with their verdict.
It was three months before anyone found Tori's badly decomposed body and forensic experts said they could not determine if the child had been sexually assaulted.
But in evidence never presented to the jury, prosecutors said a computer found in Rafferty's car included searches for topics including "underage rape," "real underage rape pictures" and "nude preteen."
Police never obtained a search warrant for the computer, so the evidence could not be admitted in court.
Rafferty now faces a sentence of life in prison. Canada has no death penalty.