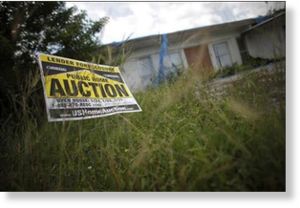 The Florida Supreme Court heard arguments on Thursday in a landmark lawsuit that could undo hundreds of thousands of foreclosures and open up banks to severe financial penalties in the state where they face the bulk of their foreclosure-fraud litigation.
Legal experts say the lawsuit is one of the most important foreclosure fraud cases in the country and could help resolve an issue that has vexed Florida's foreclosure courts for the past five years: Can banks that file fraudulent documents in foreclosure proceedings voluntarily dismiss the cases only to refile them later with different paperwork?
The decision, which may take up to eight months, could influence judges in the other 26 states that require judicial approval for foreclosures.
The case at issue, known as
Roman Pino v. Bank of New York Mellon
, stems from the so-called robo-signing scandal that emerged in 2010 when it was revealed that banks and their law firms had hired low-wage workers to sign legal documents without checking their accuracy, as is required by law.
If the state Supreme Court rules against the banks, "a broad universe of mortgages could be rendered unenforceable," said former U.S. Attorney Kendall Coffey, author of the book, "Foreclosures in Florida."
One issue in Pino's case was an allegedly fraudulent mortgage assignment, the legal document that binds a loan to a lender.
Bank of New York Mellon, as trustee of the mortgage-backed security that owns Pino's loan, is the named plaintiff in the lawsuit. But it was Pino's mortgage servicer, Bank of America, that handled the loan's administration, foreclosure proceedings and coordination of litigation.
The parties reached a confidential settlement on July 22, 2011. That same day, Bank of New York Mellon and Bank of America filed a mortgage satisfaction on Pino's home with the Palm Beach County Recorder's Office.
Even though the two parties settled the lawsuit, the Supreme Court is still hearing the case. The court said the voluntary dismissal strategy used by the banks was of great "public importance" because so many foreclosures in Florida had been tainted by fraudulent paperwork.
Florida homeowner defense attorney Thomas Ice has represented Pino, a drywall hanger, since October 2008 when Pino received a foreclosure notice after falling behind on his mortgage payments. Pino bought the home in 2006 for $203,000. He put 20 percent down and took out a loan from Bank of America for the rest.
An associate with Ice's firm, Amanda Lundergan, made the oral arguments on Ice's behalf in Thursday's proceeding. Lundergan is a recent graduate of the Florida Coastal School of Law.
Bank of New York Mellon was represented by Bruce Rogow, an attorney who has argued civil rights cases and defended American Nazi Party members and Ku Klux Klan Grand Wizard David O. Duke. He has also represented consumers in the class action against banks for overdraft fees.
During the proceeding, which lasted less than an hour, the justices asked the lawyers technical questions.
"Voluntary dismissal shouldn't be used as a shield for fraud," said Lundergan in one response. "It sets up a system where every litigant is condoned and encouraged to lie, cheat and steal, knowing that if they are caught, they can simply voluntarily dismiss and absolve themselves from that fraud."
At one point, Rogow said he believed that doing away with voluntary dismissal altogether was simply too broad a remedy because it would affect all cases, not just foreclosures.
"There are sanctions that can be imposed. We are not saying no sanctions if there are improper submissions," he said.
Voluntary dismissal is the banks' main strategy in judicial states for dealing with homeowners who challenge foreclosures, said Adam Levitin, Georgetown University consumer and housing finance professor, who has served as special counsel to the Congressional Oversight Panel following the 2008-2009 financial crash.
"If that fails, strategy No. 2 is to buy them off," says Levitin.
If the court rules against voluntary dismissal, the banks face the costly specter of not being able to simply refile cases using new paperwork and expect homeowners not to challenge the suits.
In Florida, that's a lot of cases. In the year through July 11, 2011, more than 104,000 foreclosure cases were voluntarily dismissed from Florida's courts, according to the Office of the State Courts Administrator.
Attorneys who work in the foreclosure field say such dismissals usually occur because of the banks' legal document issues.
A ruling against the use of voluntary dismissal would mean that the nearly 400,000 homeowners who are living in Florida's foreclosure limbo would simply stay there.
But it would not affect Pino's confidential settlement. No matter what, Pino, now 41, still owns his house.
Palm Beach County says it's now worth $32,915.